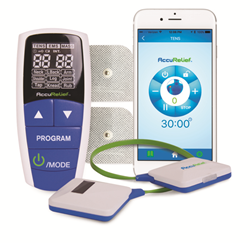 We were able to create an affordable, innovative device that pairs America's love of technology with its desire for effective, natural and homeopathic pain solutions.
Quincy, MASS (PRWEB) July 17, 2017
In a day and age where there's an app for practically everything and where the opioid epidemic is at the forefront of conversations in both government and media, Compass Health Brands is pleased to unveil its new AccuRelief™ 3-in-1 Wireless Pain Device and Bluetooth-connected mobile app. This new device—the first to be released under the 2nd generation AccuRelief™ devices, is small enough to fit in your pocket and can be operated with an intuitive and interactive mobile app, making pain relief portable, hassle-free, and simple as the click of a button.
Combining TENS (transcutaneous electrical nerve stimulation), EMS (electrical muscle stimulation), and massage, the AccuRelief™ 3-in-1 Wireless Pain Device provides a comprehensive and versatile pain solution for chronic pain, injuries, soreness, relaxation or stress-relief. Also, unlike pain killers, customers can safely use the AccuRelief device without fear of addiction or overdose.
Using the mobile app's diagrams of muscle groups, an electrode placement guide, satisfaction tracking and more, consumers can pinpoint the exact source of their pain and instantly receive targeted treatment. Users can also use the app to rate and monitor their pain over time which can give their doctor greater insight into their care.
"Each day, ninety-one Americans die from opioid overdose," says Jeff Swain, Compass Health Brands' VP of Marketing – Retail. "With over thirty years of experience providing pain management devices for consumers, medical institutions, and professionals alike, we were compelled to create an affordable, innovative device that pairs Americans' love for technology with their need for effective, natural and medication-free pain solutions."
Featuring fourteen pre-set programs with up to sixty levels of adjustable intensity, the AccuRelief™ 3-in-1 Wireless Pain Device can safely be used for twelve treatment zones including the back, knee, neck, and shoulders. As an alternative to the mobile app, the device also includes a hand-held remote control and comes complete with two AAA batteries and USB charging cable.
The AccuRelief™ 3-in-1 Wireless Pain Device has an MSRP of $69.99 and will be available for purchase starting July 2017 online and at chain drug stores nationwide, including CVS and Rite-Aid. If you own a device, the complimentary AccuRelief™ app is available for download through the App Store on iOS devices or from Google Play on Android devices. For more information, please visit http://www.compasshealthbrands.com.