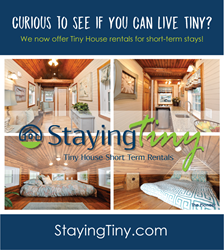 What we have found is that it's not about downsizing your life, but right sizing it
FREDERICKSBURG, VIRGINIA (PRWEB) July 17, 2017
Tiny House Building Company, a leading manufacturer of tiny houses on wheels, has launched a new company, Staying Tiny, to provide tiny house enthusiasts and interested tiny home buyers the opportunity to experience living tiny for brief stays. Tiny House Building Company, CEO and Founder Kristopher Angstadt believes the expansion is exactly what is needed to provide an opportunity for those interested in trying the tiny movement. "We have an overwhelming amount of inquiries from those seeking to attempt tiny living. They want to try it briefly to see if they could potentially live tiny on a long term basis," stated Angstadt. "What we have found is that it's not about downsizing your life, but right sizing it," he continued.
Staying Tiny's first short-term home is already available and is open for booking. Additional homes and sites are being developed and will be added to their website upon completion. For more information or to set a reservation, contact Staying Tiny at 855-539-4650, info(at)stayingtiny(dot)com or visit online at http://www.stayingtiny.com.
About Tiny House Building Company
Tiny House Building Company is Virginia's first tiny house building company. They design and custom build self-sufficient tiny houses for sale that are permanently attached to trailers for mobility. Their homes are built on the East coast and can be delivered nationwide. They help people live big in a tiny home! For more information contact the business office at 540-322-0355 or visit online at http://www.TinyHouseVA.com.