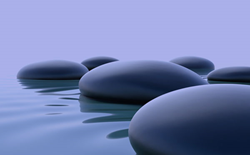 The online CE programs offered by HFO and live trainings offered by PPM are a natural fit with one another as both focus on the mind-body connection
Philadelphia, PA (PRWEB) July 18, 2017
HealthForumOnline (HFO), a nationally-approved provider of continuing education (CE) for psychologists, social workers, counselors, and other allied health professionals, and Penn Medicine's PENN Program for Mindfulness (PPM) will once again co-sponsor the Practicum in Mindfulness-based Stress Management. "The online CE programs offered by HFO and live trainings offered by PPM are a natural fit with one another as both focus on the mind-body connection," said HFO's CE Director and Co-founder Dr. Michelle Rodoletz.
Mindfulness practice has been shown to support individuals in cultivating steadiness, health and wholeness even during the most difficult moments (1-2). With ongoing mindfulness practice, one's attention becomes more stable and one's stress response patterns – the habitual thoughts and emotions that influence our behaviors – are revealed. Cultivating mindfulness allows for more "purposeful" choice in moment-to-moment life experiences rather than a reliance on automatic, perhaps maladaptive, patterns.
This intensive practicum being offered this Fall 2017 gives participants with an advanced mindfulness practice the opportunity to immerse themselves in the process of learning mindfulness and mindfulness-based stress management (MBSR). Taught by Karen Bowles, MD, Director of PPM's Professional Mindfulness Training, this live 9-week CE program provides a thorough grounding in the ways in which mindfulness is taught and learned.
Open to health professionals who wish to find a healthier, happier, and more fulfilling way to live and to care for their patients, the practicum is considered the first step for individuals who wish, at some point in the future, to apply mindfulness-based practices in their professional life or to teach the MBSR curriculum. Teaching mindfulness comes with great responsibility as you are being asked to use your own solid mindfulness practice to support individuals who may be dealing with great suffering. Prerequisites for this live practicum include: 1) completion of an 8-week foundation Mindfulness-based Stress Management or Mindfulness-based Stress Reduction course; 2) two full years of regular mindfulness practice (5-7 days per week) after the completion of the aforementioned 8-week MBSM/MBSR program; and 3) participation in a 5-day silent teacher-led mindfulness retreat.
The most important lesson and benefit of this program is that it will allow participants to refine and deepen their personal mindfulness practice while introducing them to the process for teaching and learning mindfulness-based interventions. Developing and maintaining a solid practice, when combined with extensive additional training, is crucial to being a successful mindfulness-based stress management facilitator. The program combines the experience of a 9-week Mindfulness Stress Management Foundation course with the analysis and discussion of the class content and process, as well as hands on experience in guiding meditation and facilitating group discussions.
Visit our site for more detailed information on the Practicum, including cost, dates, location, and associated learning objectives and CEs.
About HealthForumOnline:
Mental health providers can chose from HFO's over 20 categories of CE course topics related to behavioral health (i.e., ethics, cancer, women's health, cultural diversity, eating disorders, reproduction/sexuality, aging, addiction, chronic/acute illness, psychotherapy, long-term care, complementary/alternative care, neuropsychology, pain management, spirituality/mindfulness, LGBT issues). HFO's over 100 online CE courses are fast, convenient and cost-effective.
1. Kabat-Zinn, Jon. (2013). Full catastrophe living: using the wisdom of your body and mind to face stress, pain, and illness. New York:Bantam Books.
2. Shapiro, S.L., Astin, J.A., Bishop, S.R., Cordova, M. (2005). International Journal of Stress Management, 12(2), 164- 176.