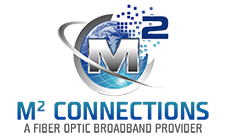 The performance of the fiber-based 1g synchronous Internet we provide NEAES allows the resident companies and NEAES staff the highest speed and quality available." Janine Moses, President M2 Connections
Oxford, AL (PRWEB) July 18, 2017
M² Connections, the leading Northeast Alabama provider of fiber-optic networks recently began serving the Anniston business community by providing fiber-based Internet access to the Northeast Alabama Entrepreneurial System (NEAES). The service provides residents of the center, a mix of service and light manufacturing businesses, with state of the art Internet speeds and service and up-time levels.
Janine Moses, President of M² Connections, states, "We immediately recognized the need of the Entrepreneurial Center. We understand that in today's climate of cloud-based business systems and online commerce that slow responses and Internet downtimes are not compatible with success. Like other utilities, broadband Internet access is a necessity and expectation. We're happy to help the Center provide their companies with fast, dependable high-speed Internet."
The Northeast Alabama Entrepreneurial System, NEAES or the Entrepreneurial Center, is a business incubator for start-up service companies and light manufacturing businesses. The Center facilitates the growth of home grown companies by offering turn-key space and mentoring.
Companies in the Center will notice not only the 1-gigabit per second (1gig or 1G) download speed but also the 1G upload speed. This synchronous Internet connectivity (having the same download and upload speed) will help users with increased productivity and throughput, a critical component of many online-oriented businesses whose work requires uploading large files such as video, images, and databases.
"We're grateful to M² Connections for providing Fiber to the Center and recognizing the importance of this service to assist the entrepreneurs in our community. As a non-profit it would have otherwise been unaffordable" states Jennifer Soehren, Operations Director at NEAES. "Fiber is essential in today's business climate. This capability will better serve our existing resident companies and hopefully be an attraction for start-up tech companies that require large bandwidth."
In 2005 M² Connections began building fiber networks for various community and educational programs before turning our focus to networks in our east Alabama communities with minimal or limited network infrastructure. That has lead to a network of several hundred miles of fiber-optic infrastructure.
Recently, M² Connections begin partnering with a new technology venture: Data Storage Solutions. Data Storage Solutions provides Disaster Recovery Data Center solutions, including conventional Data Center Rack Space, High-Speed Internet, & Security Services & Short/Long term office space for regional businesses that require business continuity services.
About M² Connections
M² Connections has been managing the deployment of advanced broadband networks since 1998, performing network process and project management services to fiber service providers throughout the southern United States. M² Connections currently operates a fiber-optic network of over 300 miles in the rural, economically distressed east-central Alabama region that includes Calhoun, Cleburne, Talladega, Clay, and Randolph Counties. The M² Connections management team has been building fiber networks for over 30 years and has over 100 years combined team experience in telecommunications.
About NEAES
The Entrepreneurial Center is a non-profit business incubator that has turn-key office and light manufacturing space available for lease to start-up companies as they launch their business. It is a 40,000 square foot facility located in Golden Springs, Anniston. It was created as a result of broad community collaboration in 1998. It has served hundreds of entrepreneurs in Calhoun and surrounding counties since opening and is a valuable resource for home grown economic growth.