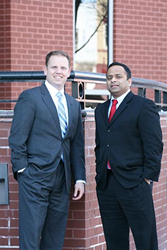 Fishers, Indiana (PRWEB) July 17, 2017
Massillamany & Jeter LLP, one of Hamilton County's newest and fastest growing law firms, finds itself growing exponentially once again. Massillamany & Jeter has been hired to represent one of the nation's largest debt collecting agencies, providing legal debt collection services.
Mario Massillamany, one of the firm's founders and partners, exclaims that, "Massillamany & Jeter is proud to continue to grow by expanding into the debt collection business. This is monumental for our firm. With this addition, we are able to expand our staff and presence in the Hamilton County community." "This is a game changer," stated partner Chris Jeter. "Our quality and experience continues to allow the firm to grow exponentially."
Massillamany & Jeter will primarily focus on debt collection practices under the Federal Debt Collection Practices Act ("FDCPA"). Debt collectors can contact you by phone, letter, email or text message to collect a debt, as long as they follow the rules and disclose that they are debt collectors. No matter how they communicate with you, it's against the law for a debt collector to pretend to be someone else — like an attorney or government agency — or to harass, threaten or deceive you.
Massillamany and Jeter LLP is a full-service law firm based in Hamilton County but serving the entire State of Indiana. The firm focuses its practice in the areas of personal injury, criminal defense, corporate law, civil litigation, family law, estate planning, appeals and government services. The Firm has offices in Fishers, Carmel, Noblesville, Plainfield, Greenwood, and Lawrence.
For more information, please visit http://www.mjattorneys.com or visit us on social media:
Facebook: http://www.facebook.com/mjattorneys
Twitter: @massjeter