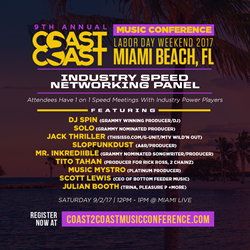 Miami Beach, FL (PRWEB) July 17, 2017
Every year Coast 2 Coast LIVE hosts their annual Music Conference in Miami Beach where they put up-and-coming artists in the same room as seasoned professionals in the music industry, and this year is no exception. Along with the World Championship showcase, cash prizes, and yacht party, the convention also features several discussion panels where these industry professionals share their stories and their wisdom on a wide array of topics that concern many artists who are just starting out. The first day of panels begins on September 2nd, and the first featured event is the Industry Speed Networking.
At the Speed Networking panel, artists will have a chance at face-to-face interactions with the featured panelists from 12:00pm until 1:00pm. This will give them an opportunity to exchange information, ask specific questions related to the industry, and possibly even have the chance to develop a business relationship. Coast 2 Coast recently announced the panelists who will be featured and they include:

DJ Spin (Grammy Award Winning DJ for Mystikal, Mannie Fresh & More)
SlopFunkDust (A&R/Producer for Little Brother, Cannibus, Heltah Skeltah, Danny Brown & More)
Solo (Grammy Nominated Producer for ESG, Z-Ro, UGK, Trae Da Truth, E40, Paul Wall, Slim Thug)
Mr. Inkredible (Grammy Nominated Songwriter/Music Producer worked with Lupe Fiasco, Bun B, Lil Wayne, Rick Ross, Kirko Bangz, Jadakiss, Royce Da 5'9, Big KRIT, Trae Da Truth, Z-Ro, & more)
Tito Tahan (Producer for 50 Cent, Rick Ross, 2 Chainz)
Music Mystro (Grammy Nominated Platinum Producer for Mary J. Blige, LL Cool J, Cam'Ron, Jim Jones, Juelz Sanatana, JR Writer, The Clipse, Fat Joe, Remy Ma, Kurrupt, Barrington Levy, NORE, Black Sheep & More)
Scott Lewis (CEO of Bottom Feeder Music/ Director of Promo for Coke Boyz)
Matt Buser (Attorney, Entertainment, Sports, trademark and copyright legal representation and counseling)
Julian Andres Boothe (Fast Life Entertainment – Trina, Pleasure P and More)
Jack Thriller (Thisis50.com/ G-Unit/ 16orBetter)
A full schedule of events for the 2017 Coast 2 Coast Music Conference can be found at the official website.
About Coast 2 Coast LIVE: Coast 2 Coast LIVE is the largest artist showcase in the world and tours the country looking for the next stars in all musical genres using our patented interactive platform. Coast 2 Coast LIVE puts the artist in front of celebrity judges to showcase their talents, while the judges give scores and feedback live via our interactive judging system on iPads, allowing artists to instantly get feedback on their performance and music from experts in their craft. Our events are open to all artists, just submit your music at coast2coastlive.com for the next event in your area, get votes from your fans, and if selected you can perform at our event, sell tickets, and win the grand prize package!
About Coast 2 Coast Convention: The Coast 2 Coast Music Conference is an annual networking event bringing together top industry DJs, producers, A&Rs, program directors and more to speak on formal panels and give practical advice to developing independent artists. The conference also features workshops, showcase events, DJ Battles, Model Contest, Afterparties and the grand finale VIP Yacht Cruise through beautiful Miami and the Biscayne Bay! All of this leads up to our World Championships showcase, where the top performer of the year will be crowned and awarded a cash prize of $25,000 as well as an exclusive record deal with Coast 2 Coast. This is one event you don't want to miss so be sure to sign up for the next Coast 2 Coast LIVE event in your nearest city!
Coast 2 Coast LIVE - Interactive Showcase Events Finding the STARS of Tomorrow!