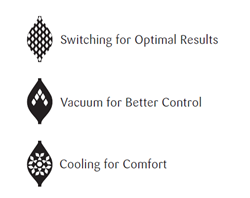 SVC technology enables highly accurate and precise energy targeting ... with the option for both coagulative and ablative responses from a single system
(PRWEB) July 23, 2017
Viora Ltd., a leading medical aesthetics solutions manufacturer, is pleased to announce today the grant of US Patent No. 9,038,640 by the United States Patent and Trademark Office. The patent applies to treatments with Viora's fractional RF technology and brings together the combination of Switching, Vacuum, and Cooling mechanisms to further increase the efficacy and safety of final treatment results for patients.
Commenting on the announcement, Mr. Eliran Almog, CEO Viora Ltd. said: "We are happy to share this news with the public and are excited for what Viora's SVC (Switching, Vacuum & Cooling) technology will deliver. SVC was developed by Viora's R&D department to enhance safety, reduce pain, increase ease of use for Viora's fractional RF product and improve the ability for highly reproducible results. The patent granting means a great deal for Viora, and will serve to open up future possibilities for new products and treatment capabilities."
SVC technology enables highly accurate and precise energy targeting while giving practitioners a significant clinical advantage with the option for both coagulative and ablative responses from a single system. More significantly for patients, SVC leads to increased comfort during and after treatments with significantly lower occurrences of complications and reduced downtime post treatment.
The grant of the patent demonstrates the innovation, creativity and hard work currently being undertaking by Viora's in house R&D team, and will help in the development of future product offerings and treatment protocols.
About Viora
Viora is a market-leading aesthetic solutions provider for skin care applications for patients seeking the most advanced developments for the most requested treatments: skin rejuvenation, resurfacing, body & facial contouring, skin tightening, cellulite reduction, acne control, skin lightening, hydration, hair removal, pigmentation and vascular clearance, exfoliation and more. Viora's expertise in developing solutions and technology for these applications ensures greater physician and client satisfaction. Viora's extensive knowledge and experience is forged from its extensive and deep connections to the aesthetic community and has allowed Viora to create the most sought after solutions, and achieve the most effective results. For more information, visit http://www.vioramed.com.