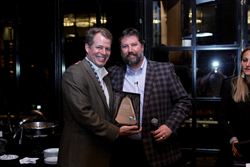 Addison, IL (PRWEB) July 19, 2017
Modula has recognized Associated as their 2016 Most Prestigious Dealer at their recent Dealer Appreciation Night. More than 80 Modula dealer representatives from across the country attended the event.
"Being able to count on a local, reliable dealer network has been a significant factor in the outstanding sales success we have enjoyed in the marketplace.  Our dealer network is strongly committed and loyal to our brand. They are proud to represent Modula in their territory and to offer to their clients the most innovative vertical storage solutions available in the market and we are proud to partner with them in these efforts ". Paul Roy - Modula's VP of Sales
"We place a high degree of value on our partnership with Modula and are humbled to be recognized as the 2016 Most Prestigious Dealer". Troy Donnelly – Associated, Corporate Director of Consulting and System Integration.
Associated has represented the Modula for the last 14 years as part of their Consulting and System Integration solution that works to help clients improve the space, labor and order fulfillment challenges they face.
About Modula:
As a leader in industrial automated storage solutions, Modula is able to meet the highest quality production standards and serve customers in a variety of markets within a timely manner. Modula employs 250 people worldwide. There are in 2 plants in Italy and 1 the US. In addition, there are 13 Modula branch offices in Europe, the Americas, Asia and Africa who are supported by a wide network of 45 authorized dealers. Being a part of System Group, Modula also benefits from a large worldwide network, with a presence in over 30 countries and over 1400 employees. This guarantees a local presence to clients, allowing the company to maintain all markets in a personal and timely manner.
About Associated:
Associated has over 55 years of providing customers with innovative solutions that optimize space, labor and order fulfillment operations within their supply chain. By utilizing their unparalleled experience and industry best practices they are able to evaluate current methods and processes for storage, order fulfillment, labor and equipment utilization and recommend practical strategies to enhance their effectiveness and reduce overall cost. In 2014, Associated acquired Peach State Integrated Technologies Inc., a professional services firm that provides strategic supply chain consulting and automated material handling solutions for their global clients. The merger has made the combined organization one of the largest supply chain solution providers in North America in both size and breadth of solution offerings. Associated has been the recipient of multiple awards in recognition of being a premier organization in the supply chain industry.
For additional information about Associated, visit the company Web site at http://www.associated-solutions.com or call (800) 755-7201.
Publisher note - Send reader responses to:
Associated
Attn: Debbie Tworek
133 North Swift Road
Addison, IL 60101
Phone: 630-588-3572
Fax: 630-588-8815
dtworek(at)associated-solutions.com