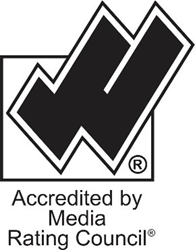 NEW YORK, NY (PRWEB) July 18, 2017
RealVu, the industry leader in viewable impression technology and the first to bring the viewable impression to the market with a series of patented digital advertising technologies, today announced the Media Rating Council (MRC) has continued the accreditation of RealVu's Viewable Impression Platform for Desktop Display (including Rich Media) Viewable Impressions, as well as being granted first-time accreditation of Mobile Web Display Viewable Impressions and related viewability metrics. RealVu was the first company to be accredited for the Viewable Impression in April of 2010 and has continued to offer accredited services to measure the Viewable Impression.
"Though we are proud that we forever changed the way the industry looks at impressions, the baseline measurement for advertising in all mediums, we realize technology moves very fast," said Brad Krassner, CEO of RealVu. "Our continued accreditation with the MRC and additional accreditation in mobile display simply shows RealVu's commitment to staying on top of the viewability game."
"RealVu was the first company to apply for and gain MRC accreditation for a viewability solution," said George W. Ivie, Executive Director and CEO of the MRC, "and in so doing, it helped to revolutionize the direction of digital advertising. Its latest accreditation achievements demonstrate RealVu's continued commitment to industry leadership."
About RealVu
RealVu Inc., is a privately held, fast-growing, innovative company focused on offering viewability solutions to the digital advertising industry. With a portfolio of patented ad-serving and ad reporting technologies, including worldwide patents for Content Rendering Control, RealVu provides unique real-time pre-bid validation of in view ad spaces and other viewable technology and services that lift view rates, yield and inventory quality. RealVu's technology also allows for the programmatic buying and selling of highly viewable inventory in a way that protects against fraud, and ensures transparent brand safety in the digital advertising market. RealVu is the first company accredited by the Media Rating Council (MRC) for the viewable impression metric. For more information, please visit http://www.realvu.com.
About the Media Rating Council (MRC)
The MRC is a non-profit Industry association established in 1963 composed of leading television, radio, print and internet companies, as well as advertisers, advertising agencies and trade associations whose goal is to ensure measurement services that are valid, reliable and effective. Measurement services desiring MRC Accreditation are required to disclose to their customers all methodological aspects of their service; comply with the MRC Minimum Standards for Media Rating Research; and submit to MRC-designed audits to authenticate and illuminate their procedures. In addition, the MRC membership actively pursues research issues they consider priorities in an effort to improve the quality of research in the marketplace. Currently approximately 110 research products are audited by the MRC. Additional information about MRC can be found at http://www.mediaratingcouncil.org.