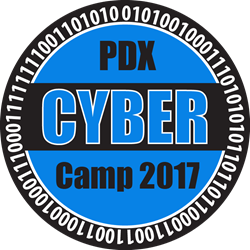 "The community response and support of the PDX Cyber Camp this year has been incredible ... cybersecurity experts stepped forward to share their knowledge, resources and time to provide a world-class educational experience for our local youth."
Portland, Oregon (PRWEB) July 17, 2017
PDX Cyber Camp 2017, sponsored by PacStar, kicks today with a week-long summer cybersecurity camp designed to give students hands-on, introductory experience in one of today's hottest fields. The camp, organized and managed by a team of high school students, educators and industry professionals, tripled in size this year due to demand and has received widespread community support and involvement from industry-leading cybersecurity companies, volunteers and non-profit organizations.
"The community response and support of the PDX Cyber Camp this year has been incredible. An impressive number of industry-leading companies and cybersecurity experts stepped forward to share their knowledge, resources and time to provide a world-class educational experience in cybersecurity for our local youth," said Charlie Kawasaki, chief technology officer of PacStar (Pacific Star Communications, Inc.) and co-founder and organizer of the PDX Cyber Camp. "Companies like IBM, MacAfee, Mentor Graphics, Galois, Absolute Software, Cylance, Hueya, New Relic, PacStar and PKI Solutions have been joined by non-profit organizations such as Big Brothers Big Sisters of Oregon, EnergySec, Girls Scouts of Oregon and SW Washington, Girls, Inc., Information Systems Audit and Control Association (ISACA), Information Systems Security Association (ISSA), Portland Public Schools, Portland YouthBuilders, Technology Association of Oregon and other organizations to make it a great learning experience for a diverse group of students."
According to Kawasaki, the camp was expanded to three locations this year at Lincoln High School in Portland, the Center for Advanced Learning in Gresham and Mentor Graphics in Wilsonville and will give local high school students an opportunity to learn about cybersecurity and participate in hands-on classes and presentations with cybersecurity industry experts. In addition, leading women guest speakers from the cybersecurity industry and female instructors will lead a special "Girls Only" camp at Lincoln High School for young women interested in science, technology, engineering and mathematics (STEM) careers.
Expert speakers at this year's camp include Hailey Buckingham, Data Scientist, Cylance; Erin Chapmin, Member of Technical Staff, Galois; Mark Cooper, President, PKI Solutions; Ryan Gurr, Information Security Manager, NuScale Power; Sam Harwin, Senior Enterprise Security Manager, Salesforce; Rachel James, IT Security Engineer, Oregon Health & Science University; Sanchit Karve, Senior Anti-Malware Researcher, McAfee; Wayne Machuca, Computer Instructor, Mt. Hood Community College; Smart Ocholi, Chief of Cyber Security & Reliability Compliance, US Army Civil Engineers; Mary Kay Petersen, IT Director, Mentor Graphics; Anna Seijas, Senior Director, Thales e-Security, Frank Tycksen, Global Vice President, Thales e-Security; and Ken Westin, Senior Security Specialist, Splunk.
In addition, speakers at the reception at the conclusion of the camp include Keith Brown, director of IBM Systems Technical Strategy & Product Security and co-chair of the Technology Association of Oregon's Cyber Lab, Rakesh Bobba, assistant professor of Electrical & Computer Engineering at Oregon State University, Wayne Machuca, computer instructor at Mt. Hood Community College, and Kristopher Rosenberg, assistant professor and program director for Information Technology & Cybersecurity at Oregon Tech. They will discuss how interested students can continue to learn about cybersecurity at various educational institutions.
"Cybersecurity is important to IBM and to our customers which is why we're focused on helping to build a skills pipeline of cybersecurity experts to meet the increasing demand," said IBM's Keith Brown. "We're also very interested in encouraging diversity in this growing field so it's great to see such a wide mix of students involved in this camp. We see the PDX Cyber Camp as a first step for these students on what could become a lifelong journey and an important career in cybersecurity."
According to Kawasaki, one of the goals of the camp is to promote diversity and inclusion of under-represented groups in the STEM and cybersecurity fields. Students attending the camp represent a mix of different genders as well as ethnic and socio-economic backgrounds.
"At Portland YouthBuilders, one of our primary goals is to help young people create pathways out of poverty. We believe that the cybersecurity skills learned at the PDX Cyber Camp will put our students on the path toward a great career," said Matt Tabora-Roberts, technology program manager at Portland YouthBuilders. "This unique opportunity would not be possible for our students without the generosity of the PDX Cyber Camp sponsors and industry sponsors so we are very appreciative of their support."
Sponsors of PDX Cyber Camp 2017 include Title Sponsor PacStar; Platinum Sponsors IBM, MacAfee, Mentor Graphics and Galois; and Gold Sponsors Absolute Software, Cylance, Hueya, and New Relic. Other sponsors and supporters include the Center for Advanced Learning, EnergySec, McKenzie Worldwide, Portland Public School's Lincoln High School Coding Club, PKI Solutions, Software Diligence Services and the Technology Association of Oregon.
For more information, please visit: http://www.softwarediligence.com/pdxcybercamp/