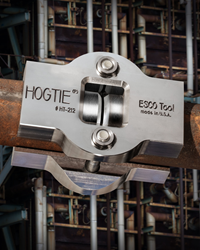 Holliston, MA (PRWEB) July 19, 2017
Esco Tool has introduced a new welding joint alignment fixture that is easier to use than a welding vise to align pipe or tube for tack welding and create high integrity welds.
The Esco HOG TIE® Boiler Tube Weld Alignment Clamp consists of one side with two through-holes and a matching side with threaded inserts which accept two bolts that draw them together. Easy to set-up and use, this clamp aligns the pipe or tube perfectly and exposes their ends for tack welding prior to removal in order to complete the entire joint weld.
Offered in 11 sizes for pipe and tube from 1.125" to 3.25" O.D., the Esco HOG TIE® Boiler Tube Weld Alignment Clamp is made of precision machined high strength steel. This pipe alignment tool is available by itself or as a kit with an impact wrench and socket, four 0.5" bolts, two spare through-hole inserts, two spare threaded inserts, and a metal carrying case.
The Esco HOG TIE® Boiler Tube Weld Alignment Clamp Kit sells for $795.00 and can be rented for $77.00 per week; with 24-hour shipment available.
For over 60 years, Esco Tool has worked closely with end-users on the toughest tube and pipe cutting and end prep applications in the power generation and metalworking industries. Their experience has allowed them to invent and manufacture high quality, torque-free end prep tools that work efficiently and require no special operator training.
The Esco product line features their robust line of MILLHOG® pipe milling end prep tools and Air-Powered Saws and specialty mount systems, High-Speed Hand-Held Bevelers, and accessories. Offered for sale or rent, with 24 hour shipment or less usually available, these field-proven tools are built tough and precision machined from the finest materials to make sure that you get your job done properly, on time, and under budget.
For more information contact:
ESCO Tool
A Unit of Esco Technologies, Inc.
Matthew Brennan, Marketing Director
75 October Hill Rd.
Holliston, MA 01746
(800) 343-6926 FAX (508) 359-4145
e-mail: matt(at)escotool(dot)com
http://www.escotool.com