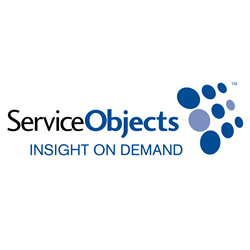 Our new lead verification service utilizes billions of contact records to link names, addresses, phone and other relevant information -- allowing our customers to accurately verify and score leads." - Geoff Grow, CEO and Founder, Service Objects
Santa Barbara, CA (PRWEB) July 19, 2017
Service Objects, the leading provider of real-time contact validation solutions, today announced the release of DOTS Lead Validation – International℠, a real-time (API) International Lead Validation service that instantly allows your business to perform multi-point contact validation on your global contact data including a prospect's name, company, address, phone, email and device against hundreds of authoritative data sources. The results provide a composite quality score (0-100) to ensure you are working with genuine and accurate leads. The service can be tested with a complimentary trial key that allows validating up to 500 transactions at https://www.serviceobjects.com/products/lead-validation-bundles/lead-validation-international.
Featuring sub-second response times and daily updates, DOTS Lead Validation - International provides immediate insight into the quality for every lead's contact data points worldwide.
DOTS Lead Validation - International works in conjunction with leading CRM and marketing automation systems and provides sales and marketing departments the ability to quickly determine which prospects have the most potential. This significantly reduces the time wasted on following up with bogus leads, which can be particularly challenging in international markets.
DOTS Lead Validation - International performs multi-point cross validation across five main data points, providing the ability to:

Verify a lead's contact name, address, email, device, and phone numbers – confirming that they all belong together;
Append an overall quality score (0-100) and specific quality scores for each input including name, business, multiple phone lines, address, email, and device;
Enhance leads with alternate addresses and phone numbers and optional demographics and property information (US and Canada); and
Determine if phone numbers match country and indicates phone line type: mobile, landline, VOIP, etc.
"With organizations expanding their marketing efforts to include global markets, validating and verifying foreign leads has never been more important," said Geoff Grow, Founder and CEO of Service Objects. "Our new lead verification service utilizes billions of contact records to link names, addresses, phone and other relevant information -- allowing our customers to accurately verify and score leads for their sales and marketing teams."
About Service Objects
Founded in 2001, Service Objects is the leading real-time provider of contact validation solutions, validating online transactions in real-time, including contact name, address, phone, email and device. Using Service Objects' global validation and location web services, businesses can identify potentially fraudulent contact records, transactions, append additional contact information, and process transactions in a more efficient manner. Service Objects has validated nearly 3 billion contacts, and major brands such as American Express, LendingTree, and Amazon rely on Service Objects for their data validation needs. For more information about Service Objects' real-time web services, please visit http://www.serviceobjects.com or contact sales(at)serviceobjects.com.