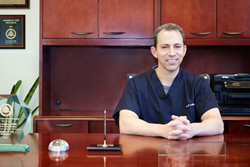 Massapequa, NY (PRWEB) July 18, 2017
Dental anxiety and phobias can lead fearful patients to postpone even much-needed dental work. Sedation dentistry, which involves deep relaxation or even sleep, is a highly practical solution. Any procedure performed in a dental office can be performed while the patient is under the effects of sedation.
Dr. Jay B. Lubliner of Massapequa, NY, invites prospective new patients to contact his practice to learn how sedation dentistry can help meet their needs.
Types of Sedation Dentistry
Sedation dentistry takes three forms, ranging from mild to deep sedation.

Nitrous Oxide: Also known as laughing gas, nitrous oxide is a blend of nitrogen and oxygen that is inhaled through a mask. It allows patients to deeply relax but typically does not induce sleep. Patients who are afraid of losing control often prefer this method of sedation, as they can remove the mask at any time. Nitrous oxide wears off in just minutes after the mask is removed, allowing the patient to safely drive home.
Oral Conscious Sedation: Oral conscious sedation is given in the form of a prescription pill that is taken in the morning before the appointment. It induces deep relaxation, and patients sometimes nod off, but can be easily roused. Because the effects of oral conscious sedation can linger all day, patients must have someone with them to drive them home after their procedure.
IV Sedation: At Dr. Lubliner's practice, IV sedation is delivered by a board-certified anesthesiologist. The patient will be deeply sedated and likely asleep throughout the procedure, and will have little to no recollection of it afterward. IV sedation lingers for several hours, so patients must have someone drive them home and stay for awhile to assist with basic tasks.
About Dr. Lubliner
Dr. Lubliner is an artist as well as a dentist, having majored in art in college and won national contests. His extensive experience in drawing, painting, and sculpting, coupled with his intense training and experience in dentistry, make him an expert in shaping new smiles. After dental school, Dr. Lubliner completed post-doctoral work in implantology with a focus on surgical and prosthetic treatment.
Dr. Lubliner is dedicated to each patient's individual dental needs, from restoring damaged or missing teeth to cosmetic smile enhancement. They offer evening and Saturday appointments as well as emergency dental care. Located in Massapequa, Dr. Lubliner serves clients throughout Long Island. Those who are interested in learning more are invited to contact Dr. Lubliner today. The office is located at 89 Grand Avenue, Massapequa, NY 11758. Prospective patients can call (516) 798-0223 to schedule an appointment. For more information, visit the website at: https://www.ultimatedentistry.com.