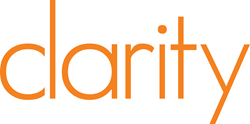 "There is no greater compliment than to receive these awards solely based on real ratings from our existing clients and candidates." - Clarity CEO, Moira Dorst
New York, NY (PRWEB) July 18, 2017
Clarity, a leading staffing firm specializing in both temporary and permanent job placements, announced today they have won Inavero's Best of Staffing® Client and Talent Awards for providing superior service to their clients and job seekers. Presented in partnership with CareerBuilder, Inavero's Best of Staffing winners have proven to be industry leaders in service quality based completely on the ratings given to them by their clients and the permanent and temporary employees they've helped find jobs. Award winners make up less than two percent of all staffing agencies in the U.S. and Canada who earned the Best of Staffing Award for service excellence.
Through Clarity's commitment to their key tenets of transparent communication, tailored service and dedication to making the best quality matches, the firm received an average service satisfaction score of 9 out of 10 from all clients and job candidates surveyed. On a scale with 10 being the top level of service satisfaction, this score is significantly higher than the industry averages across all agencies in the U.S. and Canada combined.
"There is no greater compliment than to receive these awards solely based on real ratings from our existing clients and candidates. Not all staffing firms are created equal, and it's clear that our team's industry expertise and uniquely human-centered approach makes – and will continue to make – all the difference," Clarity's CEO, Moira Dorst said.
"Staffing firms are giving top companies a competitive advantage as they search for talent in North America," said Inavero's CEO Eric Gregg. "The 2017 Best of Staffing winners have achieved exceptionally high levels of satisfaction and I'm proud to feature them on BestofStaffing.com."
About Clarity
Known as one of the top ten recruiting firms in New York City, Clarity is a woman-owned, boutique staffing firm that focuses on placing both contract and direct hire office support professionals. Since 2000, our core recruitment business areas have been administrative, human resources, accounting, finance, and marketing. We work with top talent, and the best companies in the Nation throughout all stages of their growth. Spanning all industries -- from media to technology, financial to consulting, communications and creative to real estate -- we aim to understand each client by taking a deep dive into their individual corporate cultures and to solve for recruiting challenges with our extensive industry knowledge, transparent approach, and quality service.
About Inavero
Inavero administers more staffing agency client and talent satisfaction surveys than any other firm in the world. Inavero's team reports on over 1.2 million satisfaction surveys from staffing agency clients and talent each year and the company serves as the American Staffing Association's exclusive service quality partner.
About Inavero's Best of Staffing
Inavero's Best of Staffing® Award is the only award in the U.S. and Canada that recognizes staffing agencies that have proven superior service quality based completely on the ratings given to them by their clients and job candidates. Award winners are showcased by city and area of expertise on BestofStaffing.com – an online resource for hiring professionals and job seekers to find the best staffing agencies to call when they are in need.