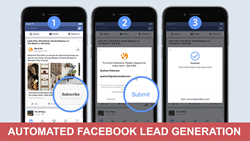 There's nothing like it on the market. For the first time, a business can gauge how Facebook advertising is monetarily growing their bottom line – without guesswork. We have clients adding more members in a month than they added in a year, states Ingram.
St. Louis, MO (PRWEB) July 19, 2017
RoboRewards Chief Executive Jonathan Ingram launches his company's new Facebook Lead Ads feature today. His timely announcement comes after Chief Executive Mark Zuckerberg recently announced that Facebook has hit 2 billion monthly active users. The new feature seamlessly integrates the social media giant's lead advert capabilities with RoboRewards' customer loyalty programs. This latest development from the top loyalty program software developer is the first of a series of upcoming new features.
Facebook has become a powerful Internet advertising platform. Its Facebook Lead Ads allow companies and advertisers to customize forms where hyper-targeted Facebook users can sign up for inviting offers like promotional discounts, product demonstrations, free training, consultation, etc. On these forms, Facebook instantly fills out some fields with information that users already share with the platform such as name, contact number, and email. Advertisers may ask additional information that users can personally opt to provide.
RoboRewards brings this lead capture experience to a whole new level. While all information is available, advertisers need to download it from Facebook and then manually upload it to their own systems. RoboRewards eliminates these tedious steps with its Facebook Lead Ads loyalty feature. It links with Facebook Lead Ads via Application Programming Interface to automatically grab data, directly import it into its reward programs, and convert captured leads into new memberships, which companies can optimize for loyalty and revenue later on.
Once new members are inside the RoboRewards loyalty programs, companies can start nurturing and engaging with them using various reward and sales funnels. Companies can track customer spending and habits, offer redemption, run multiple customized ads for testing, and expand their reward programs. Furthermore, companies can further expand their social media presence and lead generation activities across multiple platforms once RoboRewards releases more growth-hacking features within the next few weeks.
Recently, Facebook has been upgrading by introducing new ad formats, enforcing stricter rules against clickbait, and giving advertisers more ad placement control. Meanwhile, RoboRewards has been developing pioneering features that help generate traffic and leads and also provide a tangible return on investment on marketing activities. Thus, this Facebook-RoboRewards integration is a great opportunity for companies to address their greatest marketing needs while rapidly growing their loyalty members.
About RoboRewards
RoboRewards is a software solution provider for automated, cost-efficient, and customizable customer loyalty programs. The software is designed to help companies exponentially grow their customer base, increase customer frequency, and increase money spent per transaction using their proprietary Reward Program Automation Formula. Its cloud-secure, web-based technology makes reward programs and customer data globally accessible anytime.