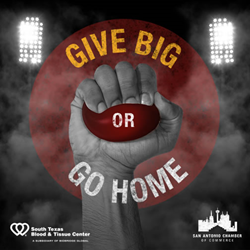 "One of the San Antonio Chamber of Commerce's 2017 priorities is community wellness, and ensuring that we have an adequate blood supply is a huge component of this effort,"
San Antonio, Texas (PRWEB) July 18, 2017
Blood centers traditionally see a dangerous drop of blood donations during the summer that can affect patients across the region. Nationally, summer is a struggle for community blood centers as high schools are out and many frequent donors are on vacation.
This is why the San Antonio Chamber of Commerce is teaming up with the South Texas Blood & Tissue Center (STBTC), a subsidiary of local nonprofit BioBridge Global, to help drive home the importance of blood donation. The Chamber has launched the B2B Blood Drive Challenge campaign, inviting its member businesses to a friendly competition to encourage employees to donate this summer. The Chamber will urge its members to host drives and aim to reach 20 percent participation by their employees. The B2B Blood Drive Challenge campaign runs through Labor Day, Sept. 4.
"One of the San Antonio Chamber of Commerce's 2017 priorities is community wellness, and ensuring that we have an adequate blood supply is a huge component of this effort," said Rad Weaver, 2017 Chamber Chairman and CEO of McCombs Partners. "It is important for our business community to come together to help STBTC by scheduling a blood drive and encouraging their employees to donate blood. An adequate blood supply gives people across the city access to treatments and keeps our workforce healthy, and it is especially important as we seek to support and grow San Antonio's medical sector."
The San Antonio Zoo, H-E-B, VIA, Whataburger, Caterpillar, and Andeavor (formerly Tesoro) are a few of the companies that have already accepted the challenge, with some of them planning multiple drives this summer. Winners of the challenge will be recognized in community ads and at a Chamber event this fall. Employee donors at winning organizations can win prizes as well.
Businesses accepting the challenge could significantly boost this summer's blood supply. Declining blood collections is a national trend, with donations at a 30-year low across the United States. STBTC alone has seen a 13 percent drop in donations since 2012.
The Chamber is encouraging its member businesses to schedule blood drives with STBTC during the summer and encourage 20 percent participation of employees at those drives.
Companies can sign up for the challenge, which runs through Labor Day, Sept. 4, and monitor results on a digital leaderboard by going to http://www.b2bchallenge.org The Chamber and STBTC will be using the hashtag #B2BChallengeSA and encourage participating companies to do so as well during the campaign to spotlight participating businesses on social media.
# # #
About the San Antonio Chamber of Commerce: The San Antonio Chamber of Commerce has been propelling business success since 1894. As the largest business association in the region, the Chamber focuses on advocating on behalf of business at the local, state and federal level on pro-business legislation, collaborates with education institutions and organizations to build a stronger workforce for the future and provides a way for businesses of every size to build their network.
About the South Texas Blood & Tissue Center: The South Texas Blood & Tissue Center (STBTC) is a nonprofit community blood center that provides blood, plasma, platelets and other blood components to more than 70 hospitals in 40 South Texas counties. It is the largest blood supplier in our region. STBTC has a proud 42-year history serving the South Texas community. The center operates under the auspices of BioBridge Global, a nonprofit organization comprising services for regenerative medicine and research including blood banking and resource management; cellular therapy; umbilical cord blood collection and storage; donated human tissue recovery and distribution for transplant; and testing of blood and plasma products to help patients in the United States and worldwide. STBTC has seven donor rooms in South Texas and conducts hundreds of mobile blood drives each year. Visit us at http://www.southtexasblood.org.