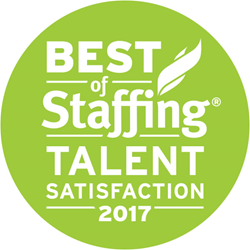 Spearhead is relentless in helping high-quality talent identify and connect with the best possible employers. To be recognized for that focus and follow-through is very gratifying.
Bridgewater, New Jersey (PRWEB) July 24, 2017
Each year, Inavero's Best of Staffing® competition identifies staffing firms across the US and Canada who have proven their superior service quality as rated by hiring professionals and job candidates. In its rigorous 2017 assessment, Inavero identified Spearhead Staffing as an industry leader based on service quality ratings from their placed talent.
Fewer than 2% of all staffing agencies in the North America earned the 2017 Best of Staffing Award for service excellence. Best of Staffing winners truly stand out for exceeding expectations and this award identifies the staffing industry's elite leaders in service quality. Spearhead Staffing has established deep expertise, and an active corporate following, in the areas of Information Technology and Engineering. To learn how Spearhead can improve your sourcing of the best IT and engineering talent, contact Doug Bryson at (908) 864-8081 or visit http://www.SpearheadStaffing.com.
About Spearhead Staffing:
Spearhead Staffing is an independent IT recruiting and staffing company specializing in customized staffing and solutions. Our employees and contractors are located throughout the United States and service client organizations in the Life Sciences, Financial Services, Health Care and Hospital industries. Our mission is to provide high-quality, cost-effective IT staffing solutions to our clients and lead the way as their trusted industry partner for their contract, contract-to-hire, and direct employment staffing challenges.
About the Best of Staffing® Awards:
The Inavero Best of Staffing® Awards annual an listing of the top employment agencies that have been awarded for superior service quality, as identified by 1,178,644 verified reviews and counting. Inavero is rooted in service-quality research for staffing agencies utilizing our Net Promoter®surveying software to easily identify satisfaction levels, capture testimonials, and compare your service levels to others in the industry.