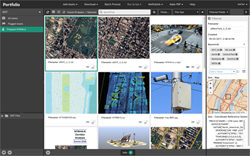 Portfolio multiplies the value of geospatial assets by making them easier to share with many end users throughout the organization as well as external partners.
Portland, Ore. (PRWEB) July 19, 2017
LizardTech® and Extensis® today announced the availability of Extensis Portfolio™ 2017, the first digital asset management (DAM) solution optimized for geospatial data. Portfolio 2017 enables users to easily organize, access and share geospatial datasets – including compressed MrSID® files – along with associated graphics and documents.
Divisions of Celartem Inc., LizardTech and Extensis collaborated in adding geospatial data management capabilities to Portfolio, a DAM solution developed by Extensis. For more than 15 years, thousands of government agencies, businesses, universities, libraries, and museums have relied on Portfolio to centralize and manage digital assets. The DAM solution indexes and catalogs photographs, videos, maps, audio files, Adobe® Creative Cloud® applications and Microsoft® Office documents.
Toby Martin, Vice President of Development and Strategy at Extensis and LizardTech stated: "In laying out the vision for Portfolio 2017, we saw a unique opportunity to marry the value of LizardTech and Extensis products and extend the value of DAM to new industries, particularly geospatial."
Martin continued: "For geospatial users, having a centralized repository for managing digital files will significantly reduce the time spent looking for datasets and essentially eliminate costly replacement of files that have been misplaced."
Portfolio 2017 gives users across the enterprise instant access to imagery, LiDAR and video data captured by satellite, aircraft and UAV platforms even if the files are stored on multiple networks, drives and computers. Geospatial files that have been compressed and saved in MrSID formats with the LizardTech GeoExpress® solution can be loaded and viewed into Portfolio without any further data conversion. Dynamic panning and the ability to zoom in deeply to MrSID files in Portfolio expedites the process of assessing geospatial images, even in preview mode, and then pair with other documents such as proposals or presentations.
Now optimized for geospatial data, Portfolio extracts embedded metadata from compressed imagery and LiDAR files saved in MrSID formats – in addition to other common geospatial formats such as GeoTIFF, JPEG 2000 , NITF and LAS – for intelligent archiving. Geospatial data can be indexed and stored alongside associated non-geospatial photographs and documents for easy access.
"Portfolio multiplies the value of geospatial assets by making them easier to share with many end users throughout the organization as well as external partners," said Martin.
For data retrieval, users search by geographic coordinates or metadata tag, such as place name, acquisition date or sensor platform. Users can also search by defining an area of interest on a map interface. Portfolio instantly finds all geospatial tagged datasets meeting the criteria along with relevant non-geospatial documents. Results are displayed as preview thumbnails with the physical location of each digital file shown on a map.
Other key features in Portfolio include:

360-degree photo and video format support
An advanced API for integration with other business systems
Flexible distribution, including on-premise hosting of assets behind the firewall and the ability to securely distribute and access assets via the web.
Multiple language localization, including English, French, German, Italian, Spanish, and Japanese.
To learn more about Portfolio, click here.
About LizardTech
Since 1992, LizardTech has delivered state-of-the-art software products and Software Development Kits for managing and distributing massive, high-resolution geospatial data such as aerial and satellite imagery and LiDAR data. LizardTech pioneered the MrSID technology, a powerful wavelet-based image encoder, viewer, and file format. LizardTech has offices in Portland, Seattle, Denver, London and Tokyo. For more information about LizardTech, visit http://www.lizardtech.com.
About Extensis
For more than 20 years, Extensis® has helped individuals and organizations of every size drive down operational costs and accelerate profitability with font and digital asset management solutions that maximize the value of digital content, streamline workflows, ensure compliance, and accelerate collaboration. Extensis' top-rated server and desktop products include: Portfolio® for digital asset management, Universal Type Server® for organizations that require font access, synchronization and compliance, Suitcase TeamSync™ for small workgroups to share fonts, and Suitcase Fusion® for individuals to manage font collections. Founded in 1993, Extensis is headquartered in Portland, Oregon, and Northampton, England. For additional information, visit http://www.extensis.com
#########
© 2017 Celartem, Inc. d.b.a. LizardTech. All rights reserved. LizardTech, MrSID, GeoExpress, Express Server, and Express Suite are registered trademarks in the United States and LiDAR Compressor and the LizardTech, GeoExpress, Express Server, Express Suite, LiDAR Compressor, ExpressView and GeoViewer logos are trademarks, and all are the property of Celartem Inc. d.b.a. LizardTech. Unauthorized use is prohibited. All other trademarks are property of their respective owners.
© 2017 Celartem, Inc. d.b.a. Extensis All rights reserved. Extensis and the Extensis logo mark, Suitcase Fusion, Suitcase TeamSync, Extensis Portfolio, Portfolio NetPublish, Portfolio Flow and Universal Type Server are trademarks or registered trademarks of Extensis in the United States of America, Canada, the European Union and/or other countries. This list of trademarks is not exhaustive. Other trademarks, registered trademarks, product names, company names, brands and service names mentioned herein are property of Extensis or other respective owners.