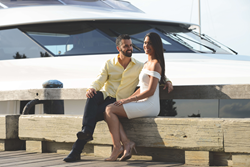 Shoutout Models does for talent what Uber did for the side hustle.
(PRWEB) July 18, 2017
Founder of The Pageant Planet Steven Roddy is excited to share Shoutout Models, his brand new platform for hiring models. Shoutout Models takes the agent out of modeling contracts and puts the control directly in the hands of the models themselves. Shoutout Models is a software-based platform that allows talent and businesses to connect digitally all over the world. Businesses can find models of all ages, shapes, and sizes, and models can choose which offers they accept or decline.
With a click of a button, businesses can directly connect with thousands of models and influencers.
Ohio Golf course managers can hire Ms. Ohio to make an appearance at their next tournament.
Entrepreneurs can hire Ms. California to work a tradeshow booth in Hollywood.
A dress designer could hire a social media influencer who can give a shoutout to their million+ followers on Instagram about their newest fashion line.
Businesses can find local models around the world to host promotions, hand out samples, or do grassroot marketing, from New York to London to Australia and beyond.
Step away from the beauty norms to find that model with cellulite or a male red head who is 5'11" to walk the runway.
Shoutout Models allows businesses to directly hire any type of model for any event, without having to pay agency fees.
Shoutout Models is truly an unmatched business venture. This new methodology for the hiring of models is beneficial for both the businesses and models who participate.
"Shoutout Models does for talent what Uber did for the side hustle," said Roddy, "by helping models and influencers take control of their career, their money, their time and their schedule."
Businesses will benefit from freed up resources, as they no longer need to invest in an agency to hire models. Traditional agencies have a limited amount of models, due to exclusive contracts and the need to keep every contracted model employed. Agencies also often mark up the model's day rate by 20 percent. Shoutout Models diverts from this traditional method. There are also zero costs for businesses to use Shoutout Models.
For models, the benefits are equally lucrative. Traditional agencies pay models within 60 to 90 days after work is completed. With Shoutout Models, models get paid within 48 hours. In addition to choosing which offers to accept or decline, models set their own prices and get paid quickly. Models will be immediately approved for hire, as Shoutout Models pairs them with a variety of businesses.
Shoutout Models is founded on the reality that businesses seek models with tattoos, plus size models, models of every shape, size, and ethnicity, models with disabilities, models with no hair, and more, as trade show models, promotional models to pass out samples, and any other job one may need.
This unique modeling platform does not judge their applicants on traditional beauty and modeling standards, but rather believes that everyone offers a unique beauty and that there are businesses all over the world who are looking to hire all types.
The only reason a model needs a traditional agency is to make sure they get paid and to make sure they get jobs. With Shoutout Models, this is all done through their unique software. Shoutout Models also gives models the freedom to take control of their profiles. With this unique platform, models can upload a headshot or a candid photo and then start applying for jobs immediately. Models also get to decide who to work for by reading reviews on the businesses that are hiring. Models also have the flexibility to apply for the jobs that interest them and at the wages they want to earn, with no cost to join.
About Shoutout Models
Roddy has worked hard to build the largest pageant resource on the planet. In doing so, he has helped dozens of pageant participants attain modeling, acting, and entertainment jobs outside of the industry of pageantry. In a dual effort to both help budding talent find their way into the modeling industry and to also aid businesses in hiring pageant participants and models, he created his unique platform, Shoutout Models. Shoutout Models provides professional talent on demand. With a few clicks, you can hire talent from anywhere on the planet. Learn more about Shoutout Models at http://www.shoutoutmodels.com