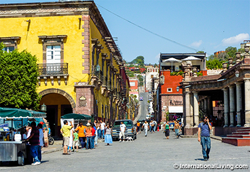 Not only is the climate mild, but it's a gorgeous, well-restored colonial city—rich with cultural offerings like theatre, musical concerts, art shows, and the like.
Baltimore, MD (PRWEB) July 18, 2017
Every year, millions of Americans visit Mexico on vacation. For many, it's the beginning of a love affair that sees them moving south of the border long term. Among the most popular destinations for American expats in Mexico is the colonial city of San Miguel de Allende in Mexico's central highlands.
Over the last three months, editors at International Living have seen an increase of 270% in the number of U.S. citizens searching for information about San Miguel on the publication's website. Of those, 67% were over the age of 45 with California and Texas the top states from which visitors searched for San Miguel insights and advice.
"San Miguel de Allende has been attracting American retirees since the late 1930's—and with reason," says Jennifer Stevens, executive editor of International Living. "Not only is the climate mild, but it's a gorgeous, well-restored colonial city—rich with cultural offerings like theatre, musical concerts, art shows, and the like. Artists of all stripes have flocked there for decades, coming in search of a vibrant creative culture and a cost of living that's a small fraction of what they'd pay at home. An active expat community makes settling in San Miguel easy. And because it's close to the U.S., this city makes good sense for folks who want a part-time escape or simply the ease of a quick flight or drive back home for regular visits."
Paula Nunes moved full-time to San Miguel from the San Francisco Bay Area in 2016. She bought her home—a two bedroom, two-and-a-half bathroom house with two covered outdoor terraces—in the neighborhood of Colonia San Rafael, three years ago. "When I bought, the dollar wasn't as strong as it is now. It was at 15 pesos to the dollar," says Paula. "It was less than $120,000."
This year Paula enclosed and converted her front terrace to a studio. She is also adding a covered rooftop terrace so she can enjoy her surroundings and the views of the Parroquia, San Miguel's landmark neo-Gothic church.
"I figure by the time I'm finished with everything, it'll be less than $9,000," she says. "I couldn't afford any of this in the U.S."
Already 10% of San Miguel's 70,000 residents are expats. Located in Mexico's colonial highlands region, about a four-hour drive northwest of the capital, Mexico City, San Miguel sees its population swell during the North American winter.
San Miguel was officially founded in 1541, getting rich when silver was discovered in the nearby states of Zacatecas and San Luis Potosi. Supplying the mines and catering to the workers and travelers passing through brought wealth to the city. Plus many of the newly rich silver barons chose to live there.
Today, its historic center is pretty much the same as it was 250 years ago, and in 2008 San Miguel was declared a UNESCO World Heritage City. Its colonial centro is a massive draw and has a lot of benefits to offer retirees: among them a low cost of living, a focus on the arts, charming local cultural traditions, and mild weather year-round.
In the late 1930s, Peruvian intellectual and artist Felipe Cossío del Pomar founded the city's first art school. Stirling Dickinson, an American artist, became the school's director. The trickle of artists coming to the city became a flood when the school accepted payments from U.S. students using the G.I. Bill, which enabled military vets to study there, abroad. It was a turning point and thousands came to the historic city for good times and low-cost living. This cemented the city's status as an artist's colony and its profile grew from there. Nunes doesn't see herself leaving anytime soon. "It's comfortable here," she says. "I like exploring and trying local family-run restaurants. It's usually 200 to 300 pesos ($10 to $15), including tip."
There is also high-quality, low-cost medical care available. Well-regarded doctors, dentists, and medical clinics are located in the city, with large hospitals and specialists available in the nearby Queretaro, a larger city about 45-minutes away.
Because San Miguel is in the high sierra, the air is crisp and clean, further enticing U.S. citizens. The climate is temperate year-round, staying in the 70s F most days and cooling down at night to the 50s F. Only in January and February do temperatures get colder, with comfortable days and dips close to freezing on the coldest nights.
An example of a monthly budget for a couple living in San Miguel de Allende and the complete International Living story on low-cost retirements in San Miguel de Allende, Mexico can be found here: San Miguel de Allende.
Editor's Note: Members of the media have full permission to reproduce the article linked above once credit is given to InternationalLiving.com.
Further information, as well as interviews with expert authors for radio, TV or print, is available on request. Photos are also available. To learn more, please contact InternationalLiving.com Associate Editor, Carol Barron, tel. (772) 678 – 0287, e-mail:cbarron(at)internationalliving.com, twitter:@inliving, facebook:international.living.
For 37 years, InternationalLiving.com has been the leading authority for anyone looking for global retirement or relocation opportunities. Through its monthly magazine and related e-letters, extensive website, podcasts, online bookstore, and events held around the world, InternationalLiving.com provides information and services to help its readers live better, travel farther, have more fun, save more money, and find better business opportunities when they expand their world beyond their own shores. InternationalLiving.com has more than 200 correspondents traveling the globe, investigating the best opportunities for travel, retirement, real estate, and investment.