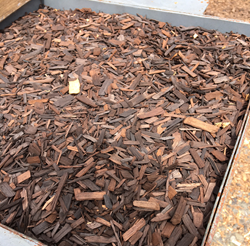 Arcata, California (PRWEB) July 19, 2017
Biomass conversion technologies are the subject of a series of three webinars from the Waste to Wisdom research project this summer, with the first slated for August 9 that highlights the life cycle assessment and economics of torrefied biomass. Subsequent webinars in late August and September will explore the use of forest residues in biochar and briquettes.
Torrefaction is a low temperature thermal treatment process that improves the fuel handling characteristics of biomass. Using data collected from a pilot plant built for the U.S. Department of Energy-funded Waste to Wisdom project, this webinar presents an outlook on the future of smaller-scale near-woods torrefaction from an environmental and economic perspective. Specifically, speakers will discuss the implications from a life cycle assessment of torrefied biomass and then describe the economics and potential markets.
Participants who can benefit from the webinar include forestland managers, logging and biomass contractors, biomass conversion tech firms, biomass marketing specialists, government agencies that regulate air quality, academics interested in utilization of biomass, and more.
The webinar will be held Wednesday, August 9 at 10:00 a.m. (PT) and will feature analysis from a number of Waste to Wisdom researchers from their efforts over the last four-years. Seats are limited and registrants are already reserving spots. See the webinar page for more information and a registration link.
About Waste to Wisdom
Waste to Wisdom is a $5.88 million project in its final year that seeks to better utilize forest residues for the production of bioenergy and bio-products. The project is funded by a grant from the U.S. Department of Energy under the Biomass Research and Development Initiative program, Award Number DE-EE0006297, and is led by Humboldt State University with support from 15 regional partners.