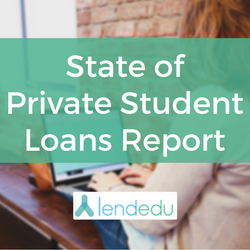 Hoboken, NJ (PRWEB) July 18, 2017
In 2017, there will be over 1.4 million students who use private student loans. According to a new report by LendEDU, the vast majority of these individuals are choosing to use variable interest rates and are approved with the help of a cosigner.
Highlights:

94% of private student loans had variable rates and 6% had fixed rates
Average borrower received a 7.81% variable interest rate
Average borrower received a 9.66% fixed interest rate
Average borrower received a 9.5 year term length
Average borrower received a $12,079 private student loan
39.37% of applicants applied with a cosigner
60.63% of applicants applied without a cosigner
28.75% of applicants were approved when applying with a cosigner
4.90% of applicants were approved when applying without a cosigner
Average approved applicant had a 739 credit score, average applied credit score was 647
Average approved applicant had $77,112 household income, average applied household income was $46,343
44% of borrowers selected full deferment until after graduation
56% of borrowers are making either interest-only or flat payments in-school
"Private student loans can be a powerful tool," said Nate Matherson, CEO/Co-Founder of LendEDU, "I used private student loans to afford college, and I am not alone. We created this report to provide transparency and set expectations for consumers. Over the last year and a half we collected an incredible amount of data. We believe that our data provides a unique insight into one of the largest consumer debt products."
All data used in this report was compiled from 80,000 LendEDU users who inquired about private student loans since 2016 and into 2017. Data has been provided by Sallie Mae, College Ave Student Loans, Ascent Student Loans, PNC Bank, Citizens Bank, and LendKey.
-
The application data was pooled from the six aforementioned companies and weighted based on the proportion of applicants. All of the applicants were sent to the six lending companies from the LendEDU.com website.
###
About LendEDU
In 2014, LendEDU launched as marketplace for student loans and student loan refinancing. LendEDU helps graduates find the lowest student loan quotes with one application. Today, LendEDU helps consumers compare a number of personal finance products including student loans, personal loans, credit cards, and banking products. LendEDU works to create engaging resource content, industry leading news, and tools to create transparency for consumers.
LendEDU was founded by Nate Matherson and Matt Lenhard in August of 2014. LendEDU is a graduate of Y Combinator's W16 class, the Iowa Startup Accelerator, and the Horn Program at the University of Delaware.
For more information, please contact:
Dave Rathmanner
Email: dave.rathmanner(at)lendedu.com
Phone: 302-584-0389