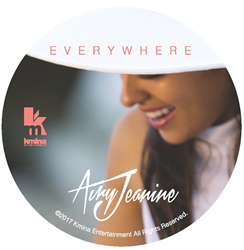 Music is a great way for me to express feelings, and to use it to make a difference is something that is a dream come true for me. ~Airy Jeanine
Franklin Lakes, NJ (PRWEB) July 19, 2017
Following in the tracks of her previous successful music releases, Airy Jeanine returns to the forefront with an infectious dynamic new song "Everywhere". The feel-good energetic Pop tune with the earmarks of a surefire hit was written by Corey "Chorus" Gibson, whose discography includes: Rihanna, Demi Lovato, Akon, Jamie Foxx, Kelly Rowland, Ciara, and Brandy. The stellar production duty was conducted by Dr. Zuez, who has working credits with J Lo, Carlos Santana, and Tory Lanez.
To enhance her market reach to wider audiences, several remixes of the song are also available by My Digital dB and Wave Dose, giving it more appeal for the domestic dance music crowd. An imported remix produced by top Malta based DJ Toby, expands her presence Internationally, with targeted exposure in several countries.
A full-scale marketing campaign is being launched to propel the various aspects of this ambitious music project. The lead off was the "world premiere" of the music video on July 18th, 2017 on http://www.celebmix.com.
The aesthetically pleasing video, directed by Rock Davis and Jay Rodriguez of Itchy House Films, displays radiant visuals showcasing fun-loving, attractive settings.
With the video campaign underway, the Radio debut is being formulated with an intensive ramped-up promotion push to kick off in August that will bring widespread airplay of the new release to audiences all over. Other complementary aspects to further build discovery will be via assorted media platforms, clubs, and other outlets.
Not resting on her early laurels, the Kmina Entertainment label is securing more songs for it's frontline artist. Another viable collaboration teams CoreyChorus with Grammy-Award winning Producer-Songwriter Eric Hudson (Kanye West, Maria Carey, Justin Bieber, John Legend, Chris Brown, Mary J. Blige, Ne-Yo…). That winning combination will undoubtedly produce songs that will be signature mainstays in the Airy Jeanine repertoire.
The multi-talented teenager has already had considerable impact with her other two song releases, "Mama's Girl", and "Do You", with the latter making the most gains: #1 and Top 10 charting positions on Independent Music Network, New Music Weekly, National Radio Hits, and FMQB respectively, she was poised for much more. Rising to #27 on the Billboard Top 40 Indicator charts, achieving the highest position for an Independent artist in over a year. She went on to further making an impact, climbing in the Top 60 on the Mediabase Top 100 charts.
"Do You" continues massive exposure with on-going spins exceeding more than 1 million on Retail Radio/What's in Store, being heard nationwide in stores such as: Best Buy, Wal-Mart, Staples, Athlete's Foot, Hooters, CarMax…and more!
Fans can easily connect with her via various social media sites. All official versions of Airy Jeanine songs and merchandise are available on her website. Additionally, her music is readily accessible via downloads from all digital retailers, including iTunes, Amazon, Google Play, Shazam, etc.
She is dedicated to refining and elevating her artistry on many fronts, as she aims for a major-label partnership, acquiring bookings, sponsorships, endorsements, licensing, and compatible multi-media deals. https://www.facebook.com/AiryJeanineband/
---About Kmina Entertainment---
Based in Franklin Lakes, NJ, the company is a start-up entertainment enterprise that produces, promotes, and markets music, video and related multimedia projects. Operating with a talent pool of executives, producers, songwriters, musicians, and engineers, who have generated songs for Grammy and American Music award winners and contenders.