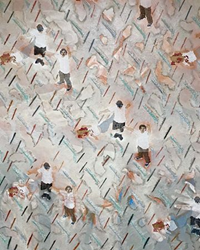 "Subjects of human trafficking suffer fundamental losses of trust and security. Project Satori offers long-term therapy to help them recover and thrive again." Lynn Crandall, director of the USC IGM Art Gallery
Los Angeles, Calif. (PRWEB) July 18, 2017
Project Satori, a Los Angeles organization offering mental health services to survivors of human trafficking and slavery in California and internationally, will host Art Heals!, an art auction and fundraiser on the University of Southern California campus this Friday, July 21st at 7:00 PM, Pacific time. Art sales from the event, featuring works by internationally celebrated artists including Shepard Fairey and Barbara Strasen, will help fund a new, permanent home for Satori's counseling services. The event was created in collaboration with the USC Institute for Genetic Medicine (IGM), one of the key community partners working with Project Satori.
"We have helped trafficking survivors for several years, and this event marks an important step toward building a lasting legacy with the Satori Wellness Center in Los Angeles, one of the world's busiest centers for human traffic," said Indhushree Rajan, Ph.D, founder of Project Satori and director of the Clinical Arts and Advocacy program. "We're immensely grateful to these artists and our partners for working together as a community to make the Satori Wellness Center a reality."
"Subjects of human trafficking suffer fundamental losses of trust and security. Project Satori offers long-term therapy to help them recover and thrive again," said Lynn Crandall, director of the USC IGM Art Gallery. "We enthusiastically support their critical work in our community and eagerly facilitate their collaboration with like-minded organizations working together inclusively, noncompetitively, transparently and accountably, to combat the causes and effects of trafficking here and beyond."
In addition to works by Fairey and Strasen, the works to be exhibited and available for silent or live auction include those by Nicole Belle; Laura Cooper; Shepard Fairey; Samantha Fields; Christine Frerichs; Margaret Griffith; Phung Hyunh; Alex Wiesenfeld; Joanna Kos; Alexandre Maroutian; Lauren Over; Naomi Scully; Robert Soffian; and Terry Marks-Tarlow. Proceeds from the sales of the artwork will go directly to Project Satori's capital fund for the purchase of the planned Satori Center compound in the Boyle Heights area of Los Angeles. The art media include oil, acrylic, screen print, transfer print, wood panels and multimedia executions.
Founded in 2008, Project Satori has made a wide range of contributions to the support and treatment of sex trafficking and slavery survivors. Through therapy and research work pioneered in Kolkata, India, Project Satori has uniquely utilized art- and play-based therapy methods which effectively catalyze the therapy relationship to begin the survivor's recovery process. Innovative therapies include sand play, narrative drama therapy and authentic movement, as well evidence-based individual and group therapy. Project Satori's services also include forensic consulting and testing services; community education and advocacy programs; leading treatment research; and professional training and development, all focused on the field of sex trafficking.
Dr. Rajan has presented original research work, articles, and papers at mental health, clinical psychology, and social justice conferences and symposia worldwide. Dr. Christo Franklin will be heading the forensic and treatment research program, and supervises clinicians specializing in trauma and crisis intervention. Project Satori has operated without a headquarters to date. The Satori Wellness Center will be a multi-building complex accommodating individual or group therapy for individuals, children, couples and families.
Globally, human sex trafficking and slavery is on the rise; its incidence has been increasing in the United States, as well. In the U.S., the most prevalent form of human trafficking is sex trafficking, and Los Angeles is one of the top three points of entry for trafficking victims. By providing long-term mental health care, Project Satori's unique services supplement the work of organizations in the region that support trafficking survivors with immediate-term shelter, safety and crisis counseling, and provide follow-up tracking to document and evalutate the effectiveness of treatment.
About USC Institute for Genetic Medicine
The USC Institute for Genetic Medicine Art Gallery's mission is to serve as an incubator for developing social capital for organizations bringing innovation and collaboration to prevent and heal physical, mental, spiritual and social disease. The Institute for Genetic Medicine Art Gallery and our partners such as Project Satori organize exhibitions and programs for local, self-organized events that bring leaders together to share and leverage existing resources. Incubating economic self-sufficiency, social justice and innovative institutional transformation is our mission.
About Project Satori
Since its founding in 2008, Project Satori has helped to fund and do psychological research and therapy work with sex trafficking survivors in Kolkatta, India, helped psycho-educationally train trafficking rescue shelter staff in India, do therapy work with sex trafficking survivors in Los Angeles, promote and participate in worldwide advocacy work for the mental health care of sex trafficking survivors and survivors of severe trauma, through presenting original research work, articles, and papers at mental health, clinical psychology, and social justice conferences and symposia in India, Europe, and the United States. For more information, visit http://www.projectsatori.org.
Appendix:
Artists represented at Art Heals!
Artist Work Website
Nicole Belle Untitled (Flattened Box Series) http://www.nicolebelle.com/
Laura Cooper Loie's Deep Sea Dance http://lauracooperart.net/
Shepard Fairey Holiday Mandala https://obeygiant.com
Samantha Fields Containment #70 http://www.samanthafields.net
Christine Frerichs Sea Study https://www.christinefrerichs.com/
Margaret Griffith Untitled (Web) http://www.margaretgriffith.com
Phung Hyunh 2 – Boob Job and
Eye Lids http://www.phunghuynh.com/
Joanna Kos Springtime Guests http://www.joannakos.net/
Terry Marks-Tarlow The Geisha Girl http://www.markstarlow.com/
Alexandre Maroutian Interaction https://www.behance.net/Alexandre-Maroutian
Lauren Over Human/Nature II http://cargocollective.com/laurenover
Naomi Scully Abstract of L.A. River
Robert Soffian Freedom of Movement http://robertsoffian.com/
Barbara Strasen 2 – Rodney King and
Reginald Denny http://www.barbarastrasen.com
Alexandra Wiesenfeld Forever None Alexandrawiesenfeld.com