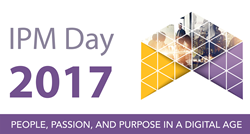 "When global organizations are asked about their most important strategic competency, the answer is Project Management."
New York, NY (PRWEB) July 19, 2017
International Institute for Learning, Inc. (IIL) is pleased to announce that its 14th annual IPM Day virtual conference will go live on Thursday, November 2. The conference is for project management professionals and other business leaders utilizing project management principles and practices, and it is expected to attract over 50,000 attendees from some of the largest and most respected companies around the world.
This year's theme—People, Passion, and Purpose in a Digital Age—reflects the sweeping changes in our business environment. Today's Project Managers are called upon, more than ever, to lead the charge into the digital frontier in the pursuit of tackling these changes. IPM Day taps into their desire to rise to the occasion and make things happen for their organization, regardless of the industry.
Project Management, as a discipline, has evolved over the past twenty years from a tactical role to a very strategic business orientation. According to Harold Kerzner, Ph.D., futurist, author, and Senior Executive Director at IIL, "When global organizations are asked about their most important strategic competency, the answer is Project Management." Historically Project Managers have supported engineering related projects in aerospace, defense and construction. Today, PMs are found in finance, healthcare, IT, Oil and Gas, Retail, Government, and even larger law firms. Why? Because sharing and implementing 'best practices'—a key role of PMs—saves organizations time, money, and resources. Dr. Kerzner will be one of the featured keynote presenters at IPM Day 2017.
Furthermore, PMs contribute to higher project success rates. According to the Project Management Institute (PMI)® 2017 Pulse of the Profession® Annual Survey, organizations are continuing to raise the bar—organizations with enterprise-wide Project Management Offices aligned with the business strategy report 38 percent more projects meeting their original goals and business intent than those that do not.
E. LaVerne Johnson, IIL's Founder, President, & CEO comments, "It is a privilege to give back to Project Managers and to the entire profession by providing current and applicable knowledge that supports their day-to-day activities. Our own professional Media Division produces IPM Day to Hollywood standards, so attendees will be mesmerized, engaged and enthralled as they experience each of the thirty programs. It is our pleasure to offer an entire day of career changing knowledge at such a minor cost—$55 per person for 26 PDUs, a requirement to keep their certification status with PMI®."
This year's first Platinum Sponsor is AXELOS, a U.K.-based company responsible for developing, enhancing and promoting a number of best practice methodologies used globally by professionals working primarily in project, program, and portfolio management, IT service management and cyber resilience. Additional sponsorships are available. Our sponsors are organizations that believe in and understand the value of what project managers do every day. Project Managers change the world—project by project.
For more information, or to register for IPM Day, click here.
About IIL
IIL's commitment to improving organizational performance with Intelligence, Integrity and Innovation has made it a trusted learning partner to thousands of global companies -- in more than 150 countries and for over 25 years. Courses are also offered through IIL's university affiliate, the NYU School of Professional Studies (NYU SPS). Learn more at http://www.iil.com.