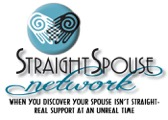 The organization reports more than 500 people per week visit the SSN website and more than 200 people per month contact the organization and benefit from the services.
Chicago, IL (PRWEB) July 20, 2017
The Straight Spouse Network's (SSN) Board of Directors has named an organization volunteer with more than 25 years of business executive experience as its new Executive Director.
Stephanie M. Skylar, a former Ohio grocery industry CEO, takes over leadership of the 26-year old Straight Spouse Network non-profit organization effective immediately, replacing interim Executive Director Daphne Callen, who will remain active in the organization. "We thank Daphne who has given so much time and effort to the organization. At her request, she will continue to play a critical role in coordinating our help and support services," says Rev. Carter Cortelyou, Chairman of the SSN Board of Directors.
Founded in 1991, The Straight Spouse Network provides support services to straight men and women who discover their spouses are gay, lesbian, bisexual, or transgender as well as to post-disclosure couples and families. In addition to a network of support groups and one-on-one contacts throughout the United States and in other countries, SSN provides online resources and forums, research-based information, and networking events and also collaborates with other organizations to increase LGBT equality and decrease heterosexist attitudes within the larger community.
Straight Spouse Network Founder Amity Buxton says, "As worldwide requests for us to provide support, outreach, and collaborative services increase daily, we are truly fortunate to have Ms. Skylar at the helm of this organization."
"I've benefited from the resources, help, camaraderie and friendship the Straight Spouse Network has provided," says Ms. Skylar, who was married for 26 years before discovering her husband was gay. "I searched on line for "My Husband's Gay" and found SSN. I immediately took advantage of the network's online forums, support groups and triage services, all of which made an enormous impact on my life and well-being."
Ms. Skylar is actively involved as a facilitator for the network's Face to Face groups in Central Ohio. "I have been a business facilitator for more than 25 years, conducting focus groups and facilitating education and training programs for my own companies. I hope to expand our facilitation outreach because this type of group interaction is so very important to help our members cope and recover after such a drastic shock to their lives." Skylar has a background as an executive in the retail supermarket industry and as a radio broadcast media owner.
Ms. Skylar says she will focus on helping the organization grow and thrive to help the next generation of straight spouses cope with their situations. "The straight spouse is often the forgotten spouse," says Skylar. "We have to make sure support services are there to help people navigate the chaos by providing resources and hope."
The organization reports more than 500 people per week visit the SSN website and more than 200 people per month contact the organization and benefit from services. Ms. Skylar says her initial focus will be on setting priorities. "We will undertake a needs assessment, including our Board and our network of staff and volunteers, to better understand what our stakeholders need in the way of triage and support."
The Straight Spouse Network conservatively estimates there are more two million straight spouses who are suffering alone. The estimate is based on research figures of the percentage of gay men, lesbians, and bisexuals in the US and the percentages of gay and lesbian persons who marry straight men and women, plus estimates of bisexual and trans persons in heterosexual marriages. "So many people in this situation, straight and gay, are not ready to address the issue," says Ms. Skylar. "That's why we must work to increase awareness of our organization, continue the level of triage we provide to members, train more facilitators and volunteer support group leaders across the country and around the world."
Additionally, Ms. Skylar says it's crucial for the organization to reach out and build bridges to LGBTQ groups to "help families heal."
For more information contact Stephanie Skylar at 419-407-6618 or refer to http://www.straightspouse.org