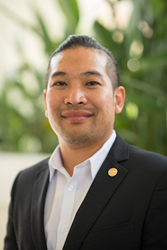 Naples, FL (PRWEB) July 20, 2017
Naples Hotel Group announces the promotion of Lance Suksiriwong, CRME to Corporate Director of Sales and Revenue Optimization. In his new role, Lance is charged with overseeing the Revenue Management and Sales departments of the company. Lance and his team are responsible for driving top-line revenue by promoting a collaborative sales and revenue environment within all departments.
Lance has been with Naples Hotel Group since January 2016 and previously held the title of Corporate Director of Revenue Management. He has been a quintessential piece to the growth and success of Naples Hotel Group's managed hotel portfolio.
This announcement reflects Naples Hotel Group's recognized expertise in operating premium branded products. Naples Hotel Group continues to grow its third-party managed portfolio Southeast United States.
For more information or media inquiries, please contact Brittany Bou-Sliman at brittany(at)napleshotelgroup(dot)com or 239-206-4273.
About Naples Hotel Group
Naples Hotel Group is a hotel development and management company founded in 1999. NHG has achieved superior results and has a proven ability to enhance the performance of hotels using their experience, responsiveness and extensive resources. NHG, based in Naples and Orlando, prides itself on building long-term relationships with quality people and organizations. To learn more visit,
http://www.napleshotelgroup.com.