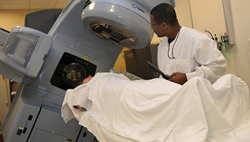 As experience has increased, it now appears that RT, particularly with IMRT, is both feasible and effective.
Raleigh, NC (PRWEB) July 19, 2017
A newly published article by the chairman of the Department of Radiation Oncology at Mount Sinai Medical School in New York suggests that radiotherapy for mesothelioma is now both "feasible and effective." Surviving Mesothelioma has more on the article. Click here to read it now.
According to Dr. Kenneth Rosenzweig, the radiation toxicities seen in earlier mesothelioma studies have been greatly diminished by increasing experience and targeted treatment technology like intensity modulated radiation therapy (IMRT).
"As experience has increased, it now appears that RT, particularly with IMRT, is both feasible and effective," writes Dr. Rosenzweig in the Annals of Translational Medicine.
The article also suggests that IMRT may be safer for the growing number of pleural mesothelioma patients who opt for lung-sparing mesothelioma surgery since IMRT makes it easier to avoid irradiating healthy tissue.
"While this article points out some of the benefits of radiation therapy for mesothelioma, it is important to note that these benefits are primarily seen in centers that offer IMRT and that have the most experience with pleural mesothelioma," says Alex Strauss, Managing Editor for Surviving Mesothelioma.
To read more about Dr. Rosenzweig's article, including some the history of radiation therapy in the treatment of mesothelioma, see IMRT "Feasible and Effective" for Pleural Mesothelioma, now available on the Surviving Mesothelioma website.
Rosenzweig, K, "Malignant pleural mesothelioma: adjuvant therapy with radiation therapy", June 2017, Annals of Translational Medicine, pp. 242, http://atm.amegroups.com/article/view/15265/html
For more than a decade, Surviving Mesothelioma has brought readers the most important and ground-breaking news on the causes, diagnosis and treatment of mesothelioma. All Surviving Mesothelioma news is gathered and reported directly from the peer-reviewed medical literature. Written for patients and their loved ones, Surviving Mesothelioma news helps families make more informed decisions.