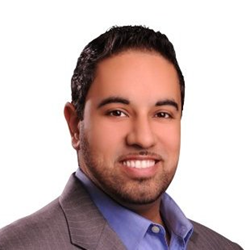 Columbia, Maryland (PRWEB) July 20, 2017
Berkshire Hathaway HomeServices PenFed Realty, one of the country's fastest-growing real estate brokerages, today welcomes Neil Madan to its Columbia, Md. office. Madan will work with home buyers and sellers, with a focus on relocation and investment real estate services.
"I'm extremely excited to join such a dynamic and well-respected company," said Madan. "This is a brokerage firm with unmatched products and services, and with people who go above and beyond to serve clients."
Madan began his career in 2000 as a marketing professional for satellite radio company, XM Satellite Radio (now Sirius XM Radio). After advancing to leadership positions in advertising agencies, he switched gears in 2007 and started his own real estate company, The Madan Group.
"Neil has an impressive track record of successfully managing and growing businesses," said Baltimore regional president Terri Bracciale. "His marketing and business development expertise is a huge asset, and he'll be a fantastic addition to the team."
A longtime Maryland resident, Madan received his bachelor's degree from the University of Maryland university system and resides with his family in Howard County. Madan is licensed and experienced in Maryland, Virginia and the District of Columbia, and can be reached via phone at 202-258-1127 or by email at Neil.Madan(at)penfedrealty(dot)com.
About the company
Berkshire Hathaway HomeServices PenFed Realty (http://www.penfedrealty.com) is a full-service real estate company with unit sales of over 15,000 per year and sales volume of $4 billion annually. The company has 1,800 agents and more than 55 offices, providing complete real estate services nationwide. PenFed Realty is a wholly-owned subsidiary of PenFed Credit Union, a financial institution with almost $24 billion in assets and almost 2 million members worldwide. PenFed Realty is a member of the Berkshire Hathaway HomeServices brokerage network, operated by HSF Affiliates LLC. PenFed Realty is an equal opportunity employer: m/f/v/d. Equal Housing Opportunity.