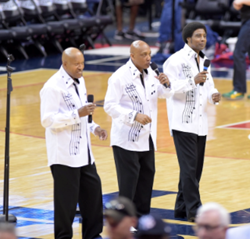 Fairfax, VA (PRWEB) July 18, 2017
Three former lead vocalists of three Rock and Roll Hall Of Fame vocal groups have joined together to form music dynamic like no other-and now LCB and have a brand new number one hit on their hands!
LCB's (Leonard, Coleman and Blunt) new song My Time to Shine has just reached the number one on spot Teerex Radio's chart. The online broadcaster, based in Canada, has listeners across the Americas and Europe.
"It's a thrill and an honor to be back on top again, and thanks to our fans and friends for this incredible honor", Glenn Leonard, Joe Coleman and Joe Blunt, former lead singers of The Temptations, The Platters, and The Drifters said in a joint statement.
LCB will celebrate their new number one hit by performing My Time To Shine and the many number ones from the Temptations, Platters and Drifters live at a free "thank you" concert this Thursday July 20th at 530pm on the grounds of the Fairfax County Government Center, 12000 Government Center Pkwy, Fairfax, VA in the Washington DC suburbs.
The three best friends grew up together in Washington, D.C., sang together in church youth choirs, on D.C. street corners, and in talent shows all over the DMV in the 1960s.
The friends eventually formed The True Reflection and released their debut album in 1973 on Atlantic Records entitled "Where I'm Coming From." The album was a local and regional hit, and the group appeared on stage with the biggest R&B music icons of the day including, Isley Brothers, Smokey Robinson and the Miracles, The Dramatics, and Al Green, as well as on hit TV shows including Soul Train.
It was at that point their careers really started to take off. Glenn Leonard received the call to join Motown's legendary Temptations, recorded ten hit albums, and sang lead on many of their 70's and 80's era R&B hits. Joe Coleman spent over two decades singing lead for The Platters headlining in Las Vegas and had an international musical theatre career. Joe Blunt joined The Drifters who enjoyed a major resurgence in England and Europe in the 70's and 80's. He performed in the group alongside legends Ben E. King and Johnny Moore, notched several Top 10 hits, toured extensively, appeared on European TV, and launched the beach music movement.
The three lifelong friends are once again based in Washington, DC and to the delight of the fans of those timeless classic songs, LCB sings all the biggest hits from each of their group's legendary careers.
Collectively, the Temptations, Platters and Drifters have sold over 100 million records worldwide with dozens of timeless classics, including "My Girl," "The Way You Do The Things You Do," "Get Ready," "The Great Pretender," "Only You," "Smoke In Your Eyes," "Under The Boardwalk," "On Broadway," and "Save The Last Dance For Me" and many more.
The D.C. natives, who have each had mega successful music careers on their own, are now back on top with a new number one hit…and back home performing together just as they always imagined they would when they were young. It's a story that should be told; it's a story about friendships that stand the test of time…and dreams that really do come true.
For artist interview requests, a copy of the new single "My Time to Shine," VIP seating for an upcoming LCB performance or more information, contact Allen Media Strategies' Amanda Hyman today at 703-589-9860 or Amanda(at)allenmediastrategies.com.
For LCB, the former lead singers of the Temptations, Platters and Drifters booking inquiries, contact Wendy Kay at Uptopia Artists (914) 319-9995 or wendy(at)utopiaartists.com.