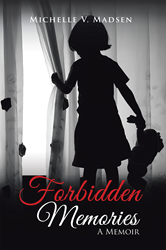 LONG BEACH, Calif. (PRWEB) July 24, 2017
A Southern California-based author has released a new book which details her life struggles, ranging from food addiction to sexual abuse, and how she has overcome them. "Forbidden Memories: A Memoir," by author Michelle V. Madsen, highlights the author's journey through several traumatic instances in her life and how she has risen above.
In "Memories," readers get a firsthand look at what Michelle has been through in her life. From experiencing sexual abuse throughout her childhood, to facing food addiction head on and overcoming it. Readers will learn not only what Madsen endured, but also how she dealt with each experience and what lead her on the road to recovery. What's more, in addition to defeating food addiction, Madsen has since maintained a 100-pound weight loss.
"I know how much I was helped in my healing by reading other books from authors detailing how they recovered from sexual abuse and obesity," said Madsen. "
"Michelle Madsen's straightforward, starkly honest memoir describes her long road form despair and emotional turmoil to wholeness," a reviewer wrote about "Forbidden Memories." "It broadens understanding about the subsequent long-term effects of sexual abuse and the possibility of healing. 'Forbidden Memories will give hope to anyone touched by abuse or addiction."
An inspirational telling of one woman overcoming harrowing experiences, "Forbidden Memories" will strike a chord with readers from all walks of life.
"Forbidden Memories: A Memoir"
By Michelle V. Madsen
ISBN: 978-1-5043-7876-5 (softcover); 978-1-5043-7877-2 (hardcover); 978-1-5043-7878-9 (electronic)
Available at the Balboa Press Online Bookstore, Barnes & Noble and Amazon
About the author
Michelle V. Madsen is a teacher of children with emotional disorders in California. She lives with her husband and a menagerie of rescued animals and enjoys writing and spending time with her children and grandchildren.
###
Review Copies & Interview Requests:
LAVIDGE – Phoenix
Chris Peña
480-998-2600 x 519
cpena(at)lavidge(dot)com
General Inquiries:
LAVIDGE – Phoenix
Bryan Beach
480-998-2600 x 510
bbeach(at)lavidge(dot)com