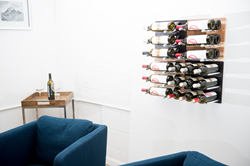 Grain + Rod is another cutting-edge example of how we turn our creativity and the demand from interior designers, architects, and wine lovers into a stunning product perfect for any wine storage project. — Charles Malek, VintageView CEO
Denver, Colorado (PRWEB) July 19, 2017
VintageView, the world leader in metal wine racking systems, has taken its patented label-forward design and blended it with premium American redwood to create the beautiful Grain + Rod collection.
This innovative wall-mounted panel system fuses natural grain boards with the award-winning aluminum Vino Series peg system for a unique and completely modular look. The collection will launch with 24 possible configurations set on the 12.75"x12.75" board with choice of:

Grain finish (natural, midnight black, dark walnut)
Bottle orientation (cork or label focused)
Capacity (3, 6, or 9 bottles)
Rod finish (black or aluminum)
"Grain + Rod is another cutting-edge example of how we turn our creativity and the demand from interior designers, architects, and wine lovers into a stunning product perfect for any wine storage project," says Charles Malek, VintageView CEO. "We haven't stopped designing since we created the original label forward wine rack in 2001."
Grain + Rod preorders began today with anticipated shipping on or before Aug. 15, 2017. It is the third addition to VintageView's wall-mounted offerings, joining the Wall Series and Vino Series lines.
Additional photos, details, specs, and more are available for download.
About VintageView Wine Storage Systems
Founded in 2001 out of the garage of a Castle Rock, Co., home, VintageView has fundamentally changed the way wine lovers store their bottles with its patented label-forward (as in you can see the label when it's holstered in its rack) design. VintageView's metal displays are designed and engineered in Denver, Co., and are featured in thousands of residential and commercial cellars throughout the world.