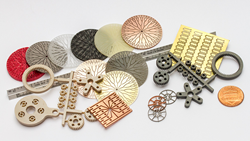 Kent, Washington (PRWEB) July 19, 2017
OMAX® Corporation, a designer and manufacturer of computer-controlled abrasive waterjet systems, has produced the world's most precise micromachining abrasive waterjet available with the assistance of a Small Business Innovation Research (SBIR) grant from the US National Science Foundation (NSF).
The NSF SBIR program is a highly competitive program that seeks to transform early-stage scientific discovery into societal and economic benefit by catalyzing private sector commercialization of technological innovations. The funding helped accelerate OMAX's efforts in the development of the MicroMAX® JetMachining® Center, capable of cutting extremely small parts from virtually any material. The MicroMAX can precision-machine titanium carbon fiber, stainless steel, graphite, glass, copper and more with no change to the material integrity and with a positioning accuracy of 15 microns. The advanced Tilt-A-Jet cutting head on the machine allows for taper-free edges and rapid cutting speeds. Earlier this year, OMAX received the prestigious Tibbetts Award from the US Small Business Administration (SBA) for its outstanding technological innovation in the area of micro abrasive waterjet technology. The latest generation of the MicroMAX was also a finalist for the R&D 100 Awards.