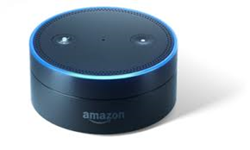 Amazon Alexa will never replace a real estate agent in the transaction, she will only enhance it.
St. Louis, Missouri, USA (PRWEB) July 24, 2017
You used to have to sit through boring classes in order to acquire the necessary knowledge to get licensed or be equipped to handle a real estate transaction. Not anymore. Amazon Alexa is being programmed to be smarter and faster than your average real estate broker with the help of Doug Devitre, a National Association of Realtors Hall of Fame Educator and visionary in cutting-edge training delivery techniques who says, "It's time we let go of having to know all the answers and learn to ask better questions."
Amazon Alexa is commanding a significant stronghold on the voice-enabled assistant market, as much as 82% of the market share compared to Google Assistant, Apple's Siri, and Microsoft Cortana according to a recent survey by Voicebot.ai. And since real estate agents spend as much as 1-2 hours in their car every day, they need to be able to pull answers fast and be prepared for when customers have very specific questions without having to look up it up from a search engine, locate the right .mp3 file from their sales coach, or wait for their broker to respond. "Amazon Alexa gives a real estate company the ability to structure categorical, sequential, and rote knowledge on-demand for an agent so that they are better prepared to serve today's 'information now' customer."
Currently Devitre has several public facing skills such as Office Policy, Real Estate Terms, Real Smarts Real Estate Quiz, and internal skills like Training Calendar, Real Estate Coach, and Real Estate Contracts. All someone has to do is log into their Amazon account, enable the skill, and start asking Alexa about the same things real estate brokers would educate their agents in a typical training course. Devitre confirms, "A couple years ago I assumed it would be better to learn how to program machines than to soon be programmed by them. This is the start of a revolution in training delivery for real estate and it's up to the forward-thinking real estate brokerages to start repurposing their expertise in the most user-friendly technology which is the sound of their own voice."
There are recent claims that artificial intelligence will dramatically decrease the number of real estate professionals in the industry but Devitre disagrees. "Amazon Alexa will never replace a real estate agent in the transaction, she will only enhance the customer's experience."