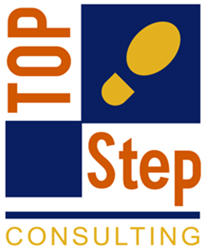 "We believe we are uniquely positioned to help those who are beginning to re-think their business models in terms of the services economy". says Jodi Cicci
Chantilly, VA (PRWEB) July 19, 2017
Silicon Review selected TOP Step Consulting to be a part of its annual Silicon100 publication. Silicon Review identifies and recognizing companies throughout the year for their accomplishments and innovations. The publication selected TOP Step to be a part of their annual Silicon100 edition because of their innovative approach to business system automation that helps their customers succeed in the fast-growing services economy.
TOP Step Consulting enables and empowers professional services organizations to be profitable, scalable, and efficient through professional services automation, process enhancement, change management, and skill set training with a Customer First approach. This portfolio of services makes TOP Step Consulting one of the most complete solution providers in their market space today.
President and CEO Jodi Cicci attributes the company's success to a talented staff coupled with experience gained by working with more than 300, mostly global, clients, "It is an exciting time for us. We are now into our 10th year and never before have we seen the services sector grow so quickly. It is more important than ever for companies that want to achieve accelerated growth and profitability to manage the lifecycle of the services they offer and deliver in a more effective and efficient way", says Jodi Cicci. "We believe we are uniquely positioned to help those who are beginning to re-think their business models in terms of the services economy".
Jodi Cicci began TOP Step Consulting in 2007 to provide solutions to an underserved Professional Services industry. She saw the need for business efficiency solutions for this industry that comes with a unique set of challenges of managing a profitable services business. Since 2007, TOP Step Consulting has grown year over year in both revenue and number of clients. Also, they have expanded their practice areas that include NetSuite OpenAir, FinancialForce PSA, PSA System Integration and Expansion, and this year Kimble PSA.
TOP Step regularly attends and sponsors many events and conferences throughout the year to both keep abreast of trends within the Services industry as well as to support their mission to enable and empower Professional Services organizations. One of the primary tenets of the TOP Step Consulting culture is to share knowledge and educate the professional services community. TOP Step delivers a successful webinar series providing three webinars each month that range from Professional Services business operations best practices to Professional Services Automation tool-specific webinars that provide tips to improve the use and adoption of NetSuite OpenAir and FinancialForce PSA systems. Also, TOP Step continually publishes eBooks, best practice white papers, and tips for the adoption of process efficiency and technology on their website.
About TOP Step Consulting
TOP Step Consulting improves business efficiency and productivity for Professional Services business operations. They help clients achieve their profitability goals allowing them to focus on building their business. Their team has extensive experience in professional services business operations, professional services automation (PSA), and project management. They have served over 300 organizations across the globe and have been awarded "Best of the Best" by SPI Research and named as one of the fastest-growing private companies by Consulting Magazine and Inc. 5000. To learn how TOP Step Consulting brings operational efficiency to Professional Services visit http://www.topstepconsulting.com.