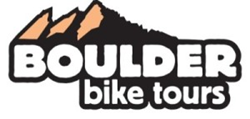 Boulder, CO (PRWEB) July 26, 2017
Following their acquisition of Awestruck Outdoors, Boulder Bike Tours is now offering Bike to Organic Farm Tours every Thursday and Sunday. Private and corporate group versions of the tour are also available with advance notice.
To learn more about the Bike to Farm tour, visit:
http://boulderbiketours.com/all-tours/farm-tour/
Participants will learn why Boulder is at the forefront of the organic farming movement. With a seasoned, local guide, guests will take part in a scenic, easy ride along a combination of bike paths and country roads with dramatic views of both the plains and the Rocky Mountains. They will enjoy a harvest-fresh meal at the farm while learning about the organic farming lifestyle from local growers.
The Thursday Sunset tour starts and ends in downtown Boulder. It lasts from 5:30 until 8:00 PM, and includes a wood-fired pizza dinner complete with vegetables harvested earlier that day. Additional artisan foods and wine are available for purchase. The price of this tour is $79 per rider.
The Sunday Brunch tour begins and ends at an organic farm in North Boulder County. It lasts from 11:00 AM until 2:00 PM and includes a four-course farm brunch with freshly harvested produce. The price of the Sunday Brunch tour is $99 per rider.
Pricing is for B.Y.O.Bike however rentals are available for an additional $25 per person.
Bike to Farm tours can be booked online at this page:
http://boulderbiketours.com/all-tours/farm-tour/
Tour FAQ
How long has the tour been in operation?
This tour was offered by Awestruck Outdoors for 3 years. Boulder Bike Tours recently acquired Awestruck, and this is their first year offering this particular tour.
How many stops are included?
It varies somewhat with the season, but on average, the Thursday tour has 1-3 stops, while the Sunday tour has 2-4.
What's included in the "Learning about Organic Farming" aspect? Do tour members get to get their hands dirty?
Tour riders interact with farmers and staff, and may meet Community Supported Agriculture (CSA) members picking up their week's share of the farm's harvest.
Farmers are glad to speak directly to the tour riders about their personal farming history, manual Organic farming techniques and methods, and the philosophy and logistics of CSA, as well as to answer tour members' questions.
Tour riders are encouraged to check out the fields, outbuildings, and farm animals.
About Boulder Bike Tours
Based in Boulder, CO, home of some of the world's best road and mountain biking, Boulder Bike Tours offers unique trips that showcase the area's culture and natural beauty. BBT founder Herschel Goldberg has lived in Boulder since 1969 and is a member of the Boulder Mountain Bike Patrol, the Boulder Mountainbike Alliance (BMA) assisting local and state land management agencies and is a founding Board Member of the Colorado High School Cycling League. The hand-picked staff has years of biking experience and a true passion for cycling. Their certifications and experience include Wilderness First Aid and Wilderness First Responder, CPR, and National Outdoor Leadership School (NOLS).
Boulder Bike Tours also has relationships with international mountain biking outfitters which allows them to provide tours in some of the most exciting locations around the globe.
Those who would like to join a tour may call Boulder Bike Tours at (303) 747-6191 or visit the website at http://boulderbiketours.com.