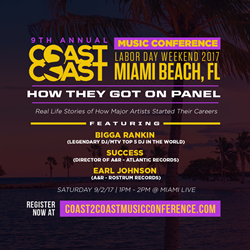 Miami Beach, FL (PRWEB) July 19, 2017
The Coast 2 Coast Music Conference is slowly drawing near. As the day approaches, Coast 2 Coast LIVE has begun to announce its schedule and lineup of panels set to be featured at this years music conference. A full schedule of events for the 2017 Coast 2 Coast Music Conference can be found at the official website. One such panel artists will have the opportunity to attend is "How They Got On". Scheduled for September 2nd between 1pm and 2pm at Miami Live, the panel will feature industry professionals who will share their individual stories of adversity, success, and wisdom gained from years of working in the music industry. Panelists scheduled to participate in this panel include:
+ Danny Mixtape (VP of Coast 2 Coast LIVE)
+ Bigga Rankin (Legendary DJ/Street Execs)
+ Yaasiel "Success" Davis (A&R for Atlantic Records)
+ Earl Johnson (A&R for Rostrum Records)
The complete list of panelists scheduled to attend this years Coast 2 Coast Music Conference.
About Coast 2 Coast LIVE: Coast 2 Coast LIVE is the largest artist showcase in the world and tours the country looking for the next stars in all musical genres using our patented interactive platform. Coast 2 Coast LIVE puts the artist in front of celebrity judges to showcase their talents, while the judges give scores and feedback live via our interactive judging system on iPads, allowing artists to instantly get feedback on their performance and music from experts in their craft. Our events are open to all artists, just submit your music at Coast 2 Coast LIVE's official website for the next event in your area, get votes from your fans, and if selected you can perform at our event, sell tickets, and win the grand prize package!
About Coast 2 Coast Convention: The Coast 2 Coast Music Conference is an annual networking event bringing together top industry DJs, producers, A&Rs, program directors and more to speak on formal panels and give practical advice to developing independent artists. The conference also features workshops, showcase events, DJ Battles, Model Contest, Afterparties and the grand finale VIP Yacht Cruise through beautiful Miami and the Biscayne Bay! All of this leads up to our World Championships showcase, where the top performer of the year will be crowned and awarded a cash prize of $25,000 as well as an exclusive record deal with Coast 2 Coast. This is one event you don't want to miss! To attend the 2017 Coast 2 Coast LIVE Music Conference, you can register online at the official Music Conference website.
Coast 2 Coast LIVE - Interactive Showcase Events Finding the STARS of Tomorrow!