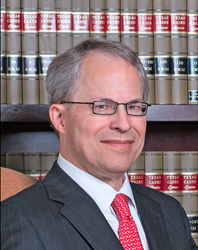 (PRWEB) July 19, 2017
The Franciscan Foundation for the Holy Land (FFHL), an organization dedicated to safeguarding the Christian presence in the Holy Land, is pleased to announce former Texas lawmaker Will Hartnett has recently joined their Board of Trustees.
Hartnett served in the Texas House of Representatives from 1991 to 2013, including 14 years as Chairman or Vice-Chairman of the House Judiciary Committee. He also served on the Appropriations, Ways and Means, and Transportation Committees. During his legislative career, Hartnett received numerous awards, including the 2011 "Ten Best Legislators" award from Texas Monthly, which called him "the epitome of fairness." Hartnett authored 159 bills which became law, and received widespread recognition for his authorship and support of pro-life legislation.
Hartnett graduated as Valedictorian of his class at Cistercian Prep School in Irving, Texas, and went on to graduate cum laude from Harvard University in 1978. He received his law degree from the University of Texas, and was admitted to the Texas Bar in 1981. He has been a partner at the Hartnett Law Firm since 1988, where he works alongside his father, several siblings and a niece. He is board certified in Estate Planning and Probate Law, is a Fellow of the American College of Trust and Estate Counsel, and has been listed in "The Best Lawyers in America" since 2003.
He and his wife Tammy have three sons, and the family has made a pilgrimage to the Holy Land with FFHL President Fr. Peter Vasko, OFM. In 2006, Hartnett was awarded the Pope Leo XIII Gold Cross of Honor from the Custos of the Holy Land in recognition of this great love for the Holy Land and philanthropic efforts towards its support.
Founded in 1994, the FFHL is a worldwide ecumenical organization, based in the USA, operating under the auspices of the Franciscan Custody of the Holy Land. The principal purpose of the FFHL is to help stem the Christian exodus from the Holy Land by providing programs and projects that will serve as incentives for Christians to remain, as well as safeguarding the basic human rights of the Christian Palestinian minority living in the Holy Land. It is proud to be a Charity Navigator four star charity.
For more information about the FFHL, visit their website at http://www.ffhl.org, or contact Stephanie Engelman via email at media(at)ffhl(dot)org or by phone at 1-855-372-0580.