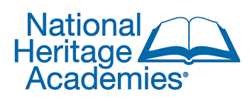 Grand Rapids, Michigan (PRWEB) July 19, 2017
As National Heritage Academies prepares to welcome new teachers for the 2017-18 school year, the charter school management company is taking an extra step to make them feel welcome – and part of the team.
Tucked into this year's new teacher welcome basket will be a copy of "The 10 Commandments of Winning Teammates," a book by respected team-building speaker and author Sean Glaze. The baskets, delivered prior to pre-planning meetings, are designed to help new teachers feel they are part of the team – even before they step into school this fall.
"We are committed to creating schools where teachers collaborate and work together to achieve student success," said Melena Strehlow, engagement and retention coordinator for NHA schools.
"Whether through professional development days, team meetings or even a daily check-in, our principals and school teams are constantly working to ensure a strong team mindset within their staff members. Adding 'The 10 Commandments of Winning Teammates' is another way to help prepare teachers to take on the many aspects of teaching, including feeling a part of a team."
NHA operates 84 charter schools in nine states. It is the largest charter school operator in Michigan and one of the largest charter school operators in the United States.
According to one of the 5-star reviews by an NHA employee on Glassdoor.com, "NHA puts students, families and staff at the core of what they do… Leaders are personally invested in each individual on the team and his/her success. The culture is great... We work hard but we have fun, too."
The Winning Teammates book by Sean Glaze will be used to emphasize the importance of teachers supporting and working collaboratively with others. Told as a parable, the book's main character learns that "if you want a winning team, you need to be a Winning Teammate."
Glaze, who spent 20 years as an educator himself, is the founder of Great Results Teambuilding, a company that provides interactive full and half-day programs to create more engaged and connected teams. "The more I've learned about NHA, the more impressed I've been," Glaze said. "It's always a pleasure to work with companies and schools who recognize the importance of creating a strong and supportive culture."