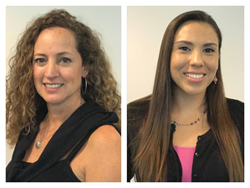 Miami, Florida (PRWEB) July 19, 2017
Republica, one of America's leading and fastest-growing independent marketing and communications agencies, announced the appointment of Bianca Ruiz as vice president, group account director and Tania Echevarria as senior manager, creative operations.
Bianca Ruiz brings more than 20 years' experience in account services and media buying to the team. Prior to joining Republica, she was group account director at OMD for over seven years, where she led the team that serviced alternative media buying and creative execution for PepsiCo, Visa, Ocean Spray, McDonald's, 3M, and Activision. Before her time at OMD, Ruiz served as the director of media and events at IMS Interamerican Marketing Solutions where she led efforts on clients such as LAN Airlines and Anheuser-Busch. In addition to her bachelor's degree in marketing from Florida International University, Ruiz holds certifications in content strategy building and television audience analysis.
Tania Echevarria has more than ten years' experience in creative operations management. Prior to joining Republica, Echevarria served in several capacities, including a seven-year stint with SapientNitro, where she held various creative operations roles. Echevarria received a bachelor's degree from Florida State University.
About Republica
Founded in 2006, Miami-based Republica is one of America's leading and fastest-growing independent marketing and communications agencies, providing counsel and services to blue-chip multinational consumer and B2B companies. República's honors include multiple ADDY, Appy, Bravo, Communicator, LATISM, MarCom, Silver Anvil, Telly, U.S.H. Idea, and W3 awards. Republica has also received the Small Agency of the Year Award from Advertising Age and has been named one of the Top Places to Work by PRNews for two years in a row. A Corporate Plus member of NMSDC, Republica is part of MAGNET, the world's leading network of independent agencies with offices in more than 100 cities across the globe. For more information, visit http://www.republica.net, like on Facebook at http://www.facebook.com/RepublicaWorld, or follow @RepublicaWorld on Twitter.