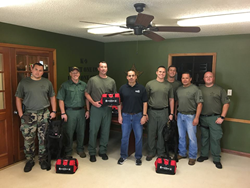 Kevin and his company are awesome friends to the Sheriff's Office and our community.
Destin, FL (PRWEB) July 19, 2017
Kevin Veach, one of Southern Rentals & Real Estate's five owners, recently donated canine first aid kits to the Okaloosa County Sheriff's Office (OCSO) K-9 Unit. Comprised of eight handlers, the OCSO K-9 Unit features Belgian Malinoises and German Shepherds, affectionately known as Rico, Gunner, Nico, Axle, Bady, Esuda, Titan, and Miro.
Each handler and canine undergo nearly 500 hours of training before being certified in a given discipline. These dogs successfully assist with drug detection, burglary alarms, traffic stops, high-risk warrant services, evidence searches, patrol operations, and even Special Response Team (SWAT) operations. In fact, the OCSO K-9 Unit has been ranked in the top ten teams by the United States Police Canine association. For each of the eight dogs, Veach donated a first aid kit containing 66 pieces of equipment to treat medical emergencies that can occur in the line of duty.
Okaloosa County Sheriff Larry Ashley noted, "Kevin and his company are awesome friends to the Sheriff's Office and our entire community. He is always giving of his time and resources to help us in some way."
The K-9 handlers added, "Our K-9 unit is truly honored by [Kevin's] support and concerns for our safety. With these new first aid kits we will be able to address almost any medical emergency encountered with our K-9s while on patrol. We cannot express enough our gratitude and appreciation to the Veach family for their generous donation and continued support of our K-9 unit."
Established in 1995, Southern Rentals and Real Estate is one of the most sought-after providers of rentals and real estate in Northwest Florida and Coastal Alabama. Locally owned and operated by two sets of brothers, Brad and Mike Shoults and Kevin and Kerry Veach, and Susan Carleton, Southern represents nearly 1,400 vacation rentals, 1,000 long term rentals, countless real estate opportunities and more than 40 associations along the Gulf Coast. The Southern family of companies includes Southern Vacation Rentals, Southern Residential Leasing, Southern Real Estate Sales, RE/MAX Southern and Southern Association Management. For more information, visit SouthernResorts.com.