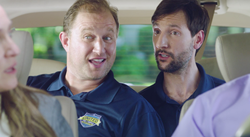 We believe that D4 took the time to understand what the strengths in our business are and had the ability to bring them to light in a meaningful way to customers and the market
Philadelphia, PA (PRWEB) July 20, 2017
D4 Creative, one of Philadelphia's top advertising and branding agencies has created a new regional TV and radio campaign for United Tire and Service, a Philadelphia-area multi-store tire and auto repair services company known for its trustworthiness and dedication to customers.
The (2) humorous TV and (2) radio spots promote a 16-point safety checklist developed by United Tire & Service, ("United"), as well as give more meaning to their slogan, "Don't drive alone, drive United." The TV spots feature a pair of United employees riding in the back seat of a customer's car always there to help and save them money. The radio spots are conversations between talking car tires with personality, complaining about "road pattern baldness" and being "tired and worn out," only to find happiness after being serviced at United Tire & Service.
"We believe that D4 took the time to understand what the strengths in our business are and had the ability to bring them to light to customers and the market in a meaningful way," said Greg Mynaugh, President of United Tire and Service.
Production was handled by D4 Creative's in-house team including Creative Director, Dave Lesser and Agency Producer/Director, Charlie Dehne. The agency's post-production facilities were utilized for all editing, graphics, and sound design.
The hyper-local consumer strategy also included creating online marketing tactics for a multi-phase email program supported by social media channels and SEO, led by D4 Creative Digital department head, Alex Giebel.