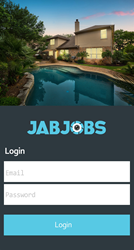 I know that I can come right back home and still have a steady stream of work waiting for me.
Philadelphia, PA (PRWEB) July 20, 2017
HomeJab, a tech company specializing in media production for the real estate industry, has created and released a mobile app called JabJobs to instantly connect agents to freelance digital artists. JabJobs was created to streamline, speed and expand the market and provide the capability of not only reaching a digital artist instantly, but also consistently supplying freelancers with work.
   
Derrick Kunzer, one of HomeJab's digital artists, has been at the company since its beginning and speaks highly of the app's creation, "The JabJobs app keeps my schedule organized and easy to navigate. It allows me to easily communicate my availability to the main office, so that if I have to shoot something out of the area for a week or two, I know that I can come right back home and still have a steady stream of work waiting for me."
JabJobs is available for Android and iOS and can be downloaded now. Any digital artist looking for extra work and needs the ability to control their own schedule simply has to get approved and download the mobile app. There is no editing, customer support, or availability requirement for freelancers. This is entirely handled by the HomeJab staff. Real estate agents' appointments are scheduled fast with a trusted professional in the area. They can order online while on the run at any time of the day. Once the appointment is complete all media is sent straight to the agent within 24 hours.  
The necessity for a quicker way to connect agents with digital artists was made apparent from the quickly growing success of HomeJab. The idea for the creation of JabJobs derived from the founders of HomeJab recognizing this growth and high demand. Gail Nyman, one of the top 100 Remax agents in the US, describes the convenience of using HomeJab "I can get photos, videos, aerial views and even 3D tours all in one place at affordable prices. Superior quality and usually one day turnaround is impressive. I used to have to hire 4 different venders to do what HomeJab does for me!"
HomeJab currently schedules thousands of shoots per month, works with over 7,500 agents per year, covers all 50 states, and employs over 200 digital artists.
About
Founded in 2014, HomeJab is a media production company based in Philadelphia, PA specializing in tech services for the real estate market. For more information call 1-855-226-8305, visit https://www.homejab.com/ or email Joe(at)homejab(dot)com.