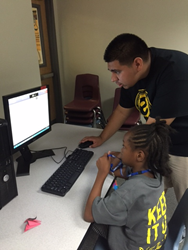 "If they don't have solid reading skills by the fourth grade, and without programs to help them gain those skills, they will struggle more and more to understand the curriculum. Eventually, they will give up and drop out of school."
Phoenix, AZ (PRWEB) July 21, 2017
Elevate Phoenix is proud to announce that 3,037 at-risk youth in Grades 2-4 served through its Reading Program improved their reading skills and comprehension between 5 and 40% over the past year. The program continues to have a very successful track record of improving students' reading skills and comprehension.
The program addresses a critical need to improve Arizona students' reading skills. The National Assessment of Educational Progress (NAEP) report, "2015 NAEP Results: A Red Flag," states that only 25% of Arizona's fourth graders and 34% of eighth graders were at or above proficient in reading. The U.S. Department of Education reported in 2016 that only 28% of Arizona students read at or above proficiency.
"As students progress through school, the curriculum gets more and more complex," said Tim Cleary, Elevate Phoenix' Executive Director. "If they don't have solid reading skills by the fourth grade, and without programs to help them gain those skills, they will struggle more and more to understand the curriculum. Eventually, they will give up and drop out of school."
Elevate Phoenix's Reading Program is delivered in and out of school through classroom instruction, mentoring, peer teaching, and the kid-friendly digital reading library myON Reader. Students can access the 8,000+ e-books in myON Reader 24/7 through an electronic device (i.e. Kindle, Smartphone, etc.). They read books about topics they enjoy, like sports and current events, and those that are aligned with the Reading Program character and life skills development curriculum. We also conduct teacher training and parent literacy education – and reading rallies.
Elevate Phoenix conducts reading activities during the school year and over the summer, which includes a reading contest with great prizes for the top individual readers and their schools.
Capstone Publishing's myON Reader combines online books and a digital tracking system to obtain hard data about students' reading improvements by measuring Lexile Levels (the systematic measurement of reading levels by grade).
Over the past year, the students read 28,262 books -- 75,764,868 words -- and spent 7,078 hours reading. The more they read, the more their comprehension increased. Overall, their reading skills and comprehension averaged a 12% increase across all of the schools combined.
Better still, they developed a love of reading! The percentage of students who now are reading on a regular basis increased by 23% to 80% -- with 49.8% as an average across all the schools.
"Our Reading Program encourages them to read more and develop a real love of reading. That is why we are seeing their skills improve so quickly and as they move from grade to grade. Our program will help ensure they are successful throughout their educational career and beyond."
About Elevate Phoenix
Elevate Phoenix is a unique program for Arizona youth. Together with urban public schools and communities we strengthen character, empower knowledge and elevate relationships. Our success is measured by the success of our kids. The Elevate Phoenix curriculum is designed to teach character, life skills, and leadership to urban students. The heart of our success is the work of our team of full-time, primarily ethnic staff who serve as teachers, mentors, and life coaches to students over multiple years. Teacher-mentors are available to students 24/7. Office: 3750 W. Indian School Rd. Phoenix, AZ 85019 Phone: 602-532-4873 Website: http://www.elevatephoenix.org.