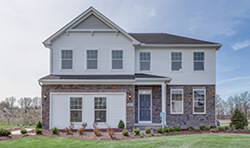 "Northpointe Estates offers new single-family homes that, in addition to being located in such a wonderful neighborhood, also include the luxury of onsite, state-of-the-art amenities. It really is a win-win for homebuyers."
Amherst, Ohio (PRWEB) July 19, 2017
Northpointe Estates, located in the vibrant city of Amherst, offers new single-family homes with exquisite onsite amenities in one of Northeast Ohio's most desirable locations. Cleveland Magazine* recently released an article in its June 2017 issue, "Rating the Suburbs," which identified Amherst as one of the top suburbs to live in Northeast Ohio based on safety, education, housing, public services, walkability and commute to work. Among the ratings, Amherst also ranked number four for safety and number eight for the lowest property taxes.
"This is really exciting news for Northpointe Estates as it attests to the incredible community that we are so happy to be a part of," said Derek Lewallen, Marketing Manager for K. Hovnanian® Homes' Ohio Division. "Northpointe Estates offers new single-family homes that, in addition to being located in such a wonderful neighborhood, also include the luxury of onsite, state-of-the-art amenities. It really is a win-win for homebuyers."
Northpointe Estates offers one- and two-story floorplans with six distinct home designs and up to 2,568 sq. ft. of living space (base home design), three to four bedrooms, up to two-and-a-half baths and a two-car garage (base home design).
Other highlights include resort-style living complete with a clubhouse, fitness center, banquet hall, expansive outdoor pool and more. "Our inviting clubhouse is the perfect spot to enjoy time with family, make new friends and maintain a healthy lifestyle," Lewallen added.
Northpointe Estates is located within the prestigious Amherst Exempted Village School District, which is perfect for growing families with young children. The community is also close to over 30 public golf courses and an assortment of shopping and dining destinations in Amherst.
The Northpointe Estates sales model is located at 819 Bearing Court in Amherst, Ohio. The Sales Center is open Monday from 1pm to 6pm and Tuesday through Sunday from 10am to 6pm. Those interested in purchasing a new home at Northpointe Estates are encouraged to speak to a Sales Consultant about possible incentives. To learn more, visit khov.com/Northpointe or call 866-520-6975.
*Permission granted to use Cleveland Magazine name in advertising by Paul E. Klein, Associate Publisher, 1422 Euclid Avenue, Suite 730, Cleveland, OH 44115, 216-377-3693, klein(at)glpublishing.com.
ABOUT HOVNANIAN ENTERPRISES®, INC.
Hovnanian Enterprises, Inc., founded in 1959 by Kevork S. Hovnanian, is headquartered in Red Bank, New Jersey. The Company is one of the nation's largest homebuilders with operations in Arizona, California, Delaware, Florida, Georgia, Illinois, Maryland, New Jersey, Ohio, Pennsylvania, South Carolina, Texas, Virginia, Washington, D.C. and West Virginia. The Company's homes are marketed and sold under the trade name K. Hovnanian® Homes, Brighton Homes® and Parkwood Builders. As the developer of K. Hovnanian's® Four Seasons communities, the Company is also one of the nation's largest builders of active lifestyle communities.
Additional information on Hovnanian Enterprises, Inc., including a summary investment profile and the Company's 2016 annual report, can be accessed through the "Investor Relations" section of the Hovnanian Enterprises' website at khov.com. To be added to Hovnanian's investor e-mail list, please send an e-mail to IR(at)khov.com or sign up at khov.com.