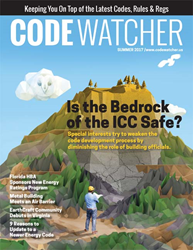 Lake City, CO (PRWEB) July 19, 2017
Green Builder Media announces the release of the summer issue of CodeWatcher, a quarterly publication designed to keep building pros on top of the ever-evolving world of building and energy codes, with the goal of using codes as a pathway to moving new homes to net zero ready.
In addition to comprehensive news and trends coverage, the issue features include:

Is the Bedrock of the ICC Safe from Erosion? Powerful special interests alarmed by building energy code gains are working hard to reduce the essential role of building officials in the code development process.
HERS Index: The Next Level. Here are some thoughts on where the HERS Index needs to continue to serve the building industry.
Energy Code Minute: Metal Building Meets an Air Barrier. We focus so much on the Residential Energy Code that we forget there actually is a Commercial Energy Code, and that they are different when it comes to some assemblies like walls.
Raising the Bar for Land and Home. Check out this EarthCraft House Virginia neighborhood, a 2,300-acre, conservation-based community that promotes green for both the community and the houses.
Top 9 Reasons to Update to a Newer Energy Code. Anyone ever ask you why they should update to the next energy code level? Here are the iron-clad reasons why they should do so today!
Code Compliant Products: Meet Fire Codes, Cut Costs. New technology helps builders confidently meet fire code at a lower cost than previously possible. The key? Reducing the amount of gypsum needed to achieve compliance.
CodeWatcher inaugural sponsors include LP Building Products http://lpcorp.com/ and the International Association of Plumbing and Mechanical Officials (IAPMO) http://www.iapmo.org/Pages/IAPMOgroup.aspx
About CodeWatcher
CodeWatcher is a quarterly magazine devoted to keeping residential building pros on top of changing building and energy codes. Our website includes information on ratings, programs, codes, better building techniques, and houses that show the path to a net zero energy future. http://www.codewatcher.us