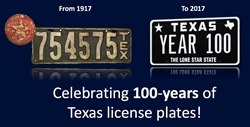 In past years, just like today, Texas license plates serve one basic purpose. The plates identify the vehicle and the owner.
Austin, TX (PRWEB) July 18, 2017
Rewind time one hundred years to 1917, when horses and buggies operated alongside motorized vehicles on Texas streets. This was the year Texas began issuing state license plates. Back then, the State Highway Department was responsible for the license plates. Now, one hundred years later, the Texas Department of Motor Vehicles issues the license plates.
The first plates issued by the state were made of sheet iron with white numbers on a dark blue background. The numbers were embossed. Down the right-hand side, each depicted a vertically placed "TEX" abbreviation. These first plates were manufactured by the Adams Stamp and Stationary Company of St. Louis, Missouri.
In past years, just like today, Texas license plates serve one basic purpose. The plates identify the vehicle and the owner.
The first 300,000 plates measured 5-7/16" x 16", a little longer than today's 6" x 12" size. The plates were valid year after year until 1922. A small annual radiator seal was also issued, featuring the year of issuance. By the end of 1917, there were a total of 194,720 vehicles registered.
In 1925, Texas license plates began to feature the year of issuance.
Other key milestone dates:

1936: To honor the 100th birthday of state of Texas, plates were manufactured with the word Centennial printed on them.
1957: Texas adopted the national license plate size standard, 6" x 12", established by the American Association of Motor Vehicle Administrators.
1965: For an additional fee, Texans could personalize their Texas license plates.
1975: The design of the general issue plate changed to display an annual registration validation sticker.
1990: Specialty license plates began to be offered to the public that generated revenue in support of causes.
2008: A private vendor began to market specialty license plates under the name My Plates. The program continues today. The website store, MyPlates.com, offers a large collection of full of color specialty license plates.
2009: The first digitally printed, full-color general issue license plate featuring a seven-character plate number was launched.
2011: My Plates released the first 7-letter personalized plates via an auction.
2013: My Plates auctioned 12THMAN for a record $115,000.
2016: My Plates released the popular "Classic Black" plate, a full black background design featuring white characters, reflecting an era of the 1960's.
Today there are approximately 24 million vehicles registered in Texas compared to the 194,000 in 1917. Texas has certainly grown over the past 100 years and to celebrate, My Plates is offering up to a $100 rebate on the purchase of a new My Plates design by using promotion code TEX100. My Plates has set up a special landing page for the offer that at: http://myplates.com/tex100.
____________________________________________________________
My Plates designs and markets new specialty license plates as a vendor for the Texas Department of Motor Vehicles. Texans have bought more than 300,000 My Plates since November 2009, putting more than $55M in the state general revenue fund. My Plates' goal is to create a long-term, mutually beneficial relationship designed to maximize revenues for the state through the sale of My Plates specialty plates. http://www.myplates.com.
The Texas Department of Motor Vehicles (TxDMV) serves protects and advances the citizens and industries in the state with quality motor vehicle related services. For every $1 it spends, the TxDMV returns $11 to the state. The agency currently registers 24 million vehicles; issues more than 7 million vehicle titles; licenses more than 38,000 motor vehicle dealers and distributors; credentials nearly 60,000 motor carriers; issues more than 800,000 oversize/overweight permits; investigates more than 15,000 complaints against dealers and motor carriers; and awards grants to law enforcement agencies to reduce vehicle burglaries and thefts. Learn more at http://www.TxDMV.gov.