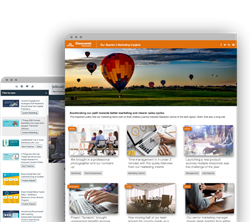 "These new innovations from LookBookHQ mean that we can deliver more content per click at a scale we've never been able to achieve before," says Rhonda Wunderlin, Vice President, Marketing Performance, Informa's Business Intelligence
Toronto, ON (PRWEB) July 19, 2017
LookBookHQ today announced that Explore, a new product within the company's Intelligent Content Platform, is now available. Explore allows B2B marketers to align with their buyers' evolving expectations for personalized content destinations, without requiring help from expensive designers or developers. Explore eliminates the need for one-off landing pages and microsites, which can take days or weeks to push live. It gives marketers the ability to quickly and easily deliver intelligent content destinations to buyers.
"As more companies adopt account-based marketing strategies, marketing teams are scrambling to deliver tailored content experiences for each unique segment or account," explains Nick Edouard, President and Chief Product Officer at LookBookHQ. "Now with Explore, marketers can create fully customized, branded, and mobile-optimized landing pages with just a few clicks."
By aggregating collections of relevant content together with Explore, marketers can deliver the right content to the right audience, accelerate engagement with that content, and collect visitor intelligence along the way. Explore can be used alongside the rest of the LookBookHQ Intelligent Content Platform, Target and Recommend, to empower buyers to self-nurture and become sales-ready faster.
In addition to Explore, LookBookHQ also released improvements to the machine learning algorithm for its Recommend product line. As anonymous visitors engage with marketing, the Intelligent Content Platform develops a topics of interest profile and helps visitors discover content in the same way Netflix recommends movies and television shows. Recommend does the thinking for marketers at scale so they don't have to guess which content visitors want to consume next.
"We're always testing different content with the different segments of our database, but we can only send so many communications before those audiences become fatigued," says Rhonda Wunderlin, Vice President, Marketing Performance, Informa's Business Intelligence. "These new innovations from LookBookHQ mean that we can deliver more content per click at a scale we've never been able to achieve before with our traditional marketing technology stack."
Learn more:

About LookBookHQ
LookBookHQ builds software that accelerates B2B purchase decisions. By delivering more of the content people need about you and your products or services whenever and wherever they click, the LookBookHQ Intelligent Content Platform helps marketing & sales organizations educate prospects and customers faster and more efficiently. With attention at a premium, we use Content Science™ to make it easier for the right people to get the right content when they need it – so that you drive revenue.