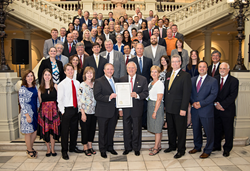 Georgia is very grateful for the fantastic job Jason is doing to promote manufacturing and the economy across the state," stated Governor Deal.
Atlanta, GA (PRWEB) July 20, 2017
Governor Nathan Deal presented the "Buy from GA" proclamation to 70 members of the Georgia Manufacturing Alliance at the State Capitol on July 17, 2017. This was the 4th year that the Governor has presented this proclamation promoting manufacturers and the goods they produce in Georgia. Governor Deal welcomed the GMA members and posed for a group photo in the Capitol rotunda. Additional photos taken throughout the day can be seen at https://goo.gl/SKuubt
He later invited Jason Moss, CEO of the Georgia Manufacturing Alliance and their leadership team, into his personal office. "Georgia is very grateful for the fantastic job Jason is doing to promote manufacturing and the economy across the state," stated Governor Deal.
While this historic event was happening in our state, President Donald Trump was simultaneously signing a proclamation making July 17th "Made in America Day" in Washington, DC. (See more here - https://goo.gl/q5JXv5) Products from all 50 states were highlighted and the product selected to represent Georgia was Chick-fil-A food.
"We are pleased that Rob Dugas, the Vice President & Chief Procurement Officer of Chick-fil-A, will be the keynote speaker at our Georgia Manufacturing Summit on October 25th," said Jason Moss. "Chick-fil-A has a tremendous impact on manufacturing in our state. From the tractor that plants the corn that feeds the chickens, to the fixtures and tables in the restaurants, to the bag that the sandwich is placed in; manufacturing is a huge part of the entire process."
A new website was also announced on Monday to promote products manufactured in Georgia year-round. The http://www.BuyFromGA.com website features over 800 items that are manufactured in our state. Consumers can purchase these products via this site using their Amazon account.
"Today was a significant day for manufacturers in our state, and we will continue to provide resources for our manufacturers to learn best business practices, connect with local suppliers, and promote their goods and services," said Jason Moss. "GMA is here to provide the resources to help our manufacturers and service providers be more successful."
About the Georgia Manufacturing Alliance:
The Georgia Manufacturing Alliance (GMA) is a membership-based industry organization founded in 2008 to support Georgia's manufacturing community. GMA provides monthly plant tours, educational sessions, tradeshows, and unique networking opportunities designed to help make profitable business connections for its members. The Georgia Manufacturing Directory, Georgia Manufacturing Summit, Georgia Manufacturing Calendar, and Georgia Manufacturing Job Board are additional resources produced by GMA. To learn more about the organization, membership, and upcoming events, please call 770-338-0051 or visit their website at http://www.GeorgiaManufacturingAlliance.com.