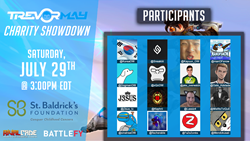 "If we can provide more opportunities for aspiring and established players alike to showcase their abilities, and support great causes along the way, it's a win in my book." Trevor May
Tampa, FL (PRWEB) July 27, 2017
Rivalcade and Trevor May are thrilled to announce the 'Trevor May Showdown Series'. The Series offers the Overwatch community a new spin on competitive play by introducing specialized 1v1, 2v2, and 3v3 tournaments that allow players of all levels to demonstrate their skills. Alongside a consistent schedule of tournaments, Rivalcade and Trevor May will be hosting a 2v2 charity tournament for St. Baldrick's Foundation that will be the first of its kind for Overwatch. The 2v2 event will showcase some of the top pro players, and many of your favorite Overwatch streamers. Together they will battle it out to see who can raise the most money for charity.
https://www.stbaldricks.org/events/overwatchcharityshowdown/participants#content
Jake Laumann, of Rivalcade, says "Partnering with Trevor May allows Rivalcade to produce great tournaments for aspiring amateur players. It also allows us to leverage Trevor's stature in in the community, and create cool new experiences, such as our upcoming 2v2 charity tournament." Rivalcade and Trevor May plan to continue iterating on the different rules and formats to continuously offer up new and exciting events for the Overwatch scene.
Trevor May, Twitch partner and professional athlete, said "I think continuously experimenting with and expanding the events for Overwatch is a great way to continue to build the community. At the end of the day, having fun and competing is what it's all about. If we can provide more opportunities for aspiring and established players alike to showcase their abilities, and support great causes along the way, it's a win in my book."
About Rivalcade
Rivalcade is an eSports lifestyle brand. Rivalcade is creating a one-of-a-kind omni-channel experience for esports teams, brands, and fans, and providing the next generation of electronic sports competition. Rivalcade builds brand equity for their partners, and creates a conduit for compelling eSports content. For more information about Rivalcade, visit their website. http://rivalcades.com/
About Trevor May
Trevor May is a professional baseball player, Twitch entertainer, an avid gamer, and a serial entrepreneur.